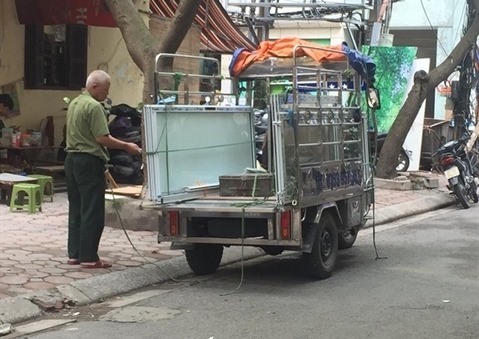 An elderly man works as a transporter in Hà Nội during the COVID-19 pandemic. People, especially those over 60, are advised to stay at home for their safety. — Photo baophatluat.vn
HÀ NỘI — The Ministry of Health has urged people to stay at home and only leave their homes for a handful of special reasons.
The announcement was made on Thursday morning when seven people, including five Vietnamese, one French man, and one South African woman, tested positive for COVID-19, bringing the country's total number of cases to 148.
In the past 24 hours, 14 new cases were reported. Of that, ten cases were immediately quarantined after entering the country and one case was a doctor who was infected while treating people in hospital.
The three remaining cases were reported to have contacted other members of the community.
The ministry said people needed to stay indoors. Those who were over 60 years old needed to stay at home all the time as they were the most vulnerable to the virus.
People needed to notify local authorities and police about people entering Việt Nam, including both Vietnamese and foreign citizens, from March 8 who have not been quarantined.
All unnecessary services in Hà Nội have been ordered to shut down to help curb the spread of the COVID-19 pandemic.
Dr Trương Hữu Khanh, head of the Infection and Neurology Department at HCM City's Children No1 Hospital, told online newspaper Zing that the risk of SARS-CoV-2 infection was high in crowded places.
The amount of virus spread from the infected person depended on different stages. For those who start coughing, the virus would spread more.
Therefore, people should limit travelling and gathering in crowded places.
"A person who feels like he or she may be infected with Covid-19 needs to know how to quarantine themselves. This will limit the spread of the disease," he said.
Khanh said when people raised their awareness, the disease would spread slowly and be brought under control. Doctors would have enough time to care for patients, especially in severe cases.
When too many people got sick at the same time, the hospital would be overloaded, making treatment more difficult, he said.
Dr Phạm Bá Hiền, deputy head of the steering committee for the prevention of COVID-19 of Đống Đa General Hospital, shared the same view, saying karaoke bars, pagodas, or churches were places where people had very close contact with each other and had high risk of infection.
If infected people were not detected and quarantined, the risk of infection would increase to the community and make it difficult to control the epidemic. — VNS