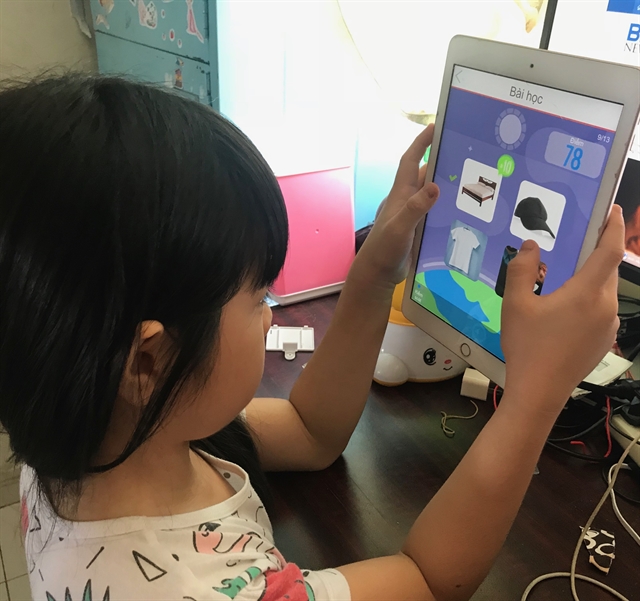 A primary school student in HCM City learns English lessons online from a foreign languages centre. — VNS Photo Gia Lộc
HCM CITY — The HCM City Department of Education and Training has instructed all primary schools to teach their students online on their website as schools continue to remain closed due to the COVID-19 pandemic.
First, second and third graders will learn maths and Vietnamese online while fourth and fifth graders will also learn science, history and geography in addition, according to the department.
The principals will decide the frequency of classes based on their students' capacity and the facilities available.
Video recordings of what teachers teach and the exercises they give will be posted on the school website every week.
Schools without a website are required to send videos and exercises via email or phone messages to students' parents.
Several middle schools such as Minh Đức School in District 1 are already teaching online after training its teachers in online lessons last month.
When the city People's Committee decided that all students would remain at home until April 5, the school's leaders decided that all teachers would teach online from March 16.
The teachers could stay at home for this or go to the school.
Trần Thúy An, principal of the school, told Tuổi Trẻ (Youth) newspaper that initially it was chaotic with students talking with each other, leading to too much noise.
But things have settled down since and are going smoothly, she said.
Many parents were unhappy because they did not want their children to use a computer when they were not near them since they had to go for work, she said.
But more than 50 per cent of the children were learning online, she added.
Teachers at other schools said the large number of students in each class (usually 45-50) precluded teaching online.
The department has also instructed foreign language centres that work with schools to teach English to set up online lessons.
On March 19 the department had instructed foreign language and computer centres to stop organising contests and called on district authorities to monitor them.
The Trade Union of the education sector will provide an allowance of VNĐ1.2 million (US$51) to teachers who are pregnant, have children less than a year old, sick, or have decreased incomes due to the pandemic.
It is also organising a programme to sell food and essential items at low prices.
It is collaborating with financial organisations to provide loans at low interest rates to teachers and private schools to enable them to pay salaries to their teachers. — VNS