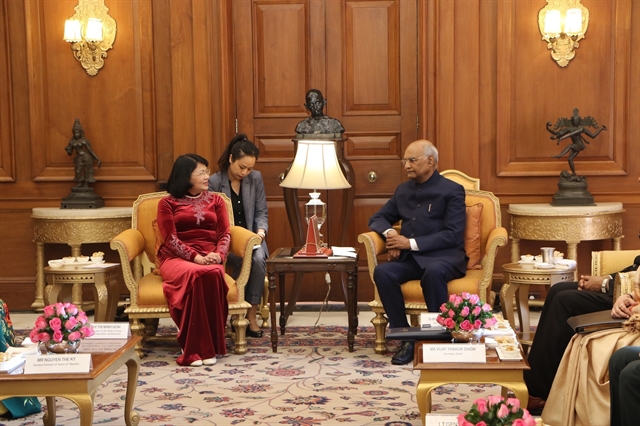 Vice President Đặng Thị Ngọc Thịnh with Indian President Ram Nath Kovind. VNA/VNS Photo
NEW DELHI Vice President Đặng Thị Ngọc Thịnh meet with Indian President Ram Nath Kovind in New Delhi on Thursday, as part of her official visit to India.
During the meeting, Vice President Thịnh informed her host on the outcome of talks with Indian Vice President Venkaiah Naidu.
The Indian President expressed his pleasure at the extension of the two countries' product sharing contract at Lot 128 in the East Sea for two more years, saying that it is a clear message on India's stance on the East Sea.
He said Việt Nam is an important pillar in India's Act East Policy and in India's relations within ASEAN, especially when Vietnam is serving as Chair of ASEAN in 2020 and a non-permanent member in the UN Security Council for 2020-21.
The two leaders agreed to maintain frequent high-level exchanges and contact each year as well as existing cooperative mechanisms between the two countries.
They vowed to continue implementing signed agreements, especially the plan of action for 2017-20, while encouraging their businesses to intensify co-operation, expand investment to new fields of India's strength and Việt Nam's demand such as science-technology, energy-renewable energy, and oil refinery and petrol chemicals.
The leaders also agreed to accelerate the implementation of non-refundable aid and preferential credit packages for Việt Nam, and facilitate the opening and operation of flights between major cities of the two countries.
They assigned ministries and agencies to continue talks to remove obstacles in trade and investment ties, towards the goal of US$15 billion worth of trade value this year.
The two sides agreed to continue with their close co-ordination and mutual support at international and regional forums, towards the early finalisation of an impartial and comprehensive Code of Conduct of Parties in the East Sea that ensures the interests of all concerned parties.
The same day, Vice President Thịnh visited the Vietnamese Embassy and talked with the embassy's staff and overseas Vietnamese in India. VNS