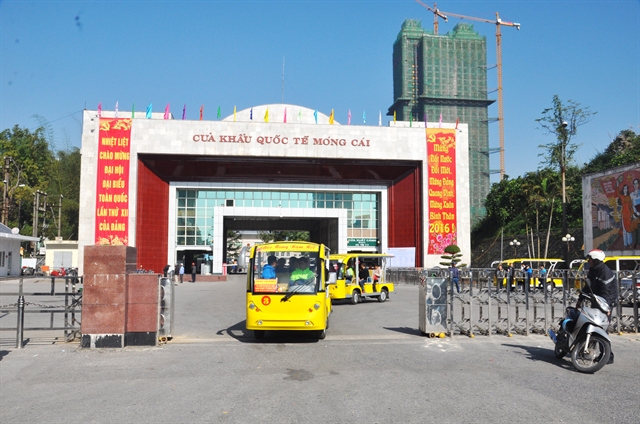 Móng Cái border gate is expected to reopen in the near future after closing in January 31 due to novel coronavirus epidemic. Photo baoquangninh.vn
QUẢNG NINH – Móng Cái City in Quảng Ninh Province has nearly completed preparations for resuming customs clearance at Móng Cái International Border Gate in the near future.
The Móng Cái border gate has been closed since January 31 due to the novel coronavirus epidemic. Móng Cái City and Dongxing City, which run the Móng Cái – Dongxing international border gate, have discussed preventive measures and scenarios for resuming customs clearance.
The two cities have yet to choose a date to resume customs clearance at the border.
Despite the epidemic, Quảng Ninh has not adjusted its economic growth targets. Therefore, the province needs to resume operation at its international border gates as soon as possible.
When Móng Cái International Border Gate resumes operations, vehicles transporting goods between Việt Nam and China will be disinfected before entry and exit. Meanwhile, workers loading and unloading goods and drivers will face strict measures to avoid infection.
The city will work with trade authorities to solve difficulties for import-export enterprises, as well as find measures to improve cargo handling capacity at border gates.
Móng Cái border gate is one of the most important international border gates in the Việt Nam and China trade relationship.
Customs Sub-department of the Móng Cái International Border Gate estimated its budget collection to reach VNĐ1 trillion in 2019. – VNS