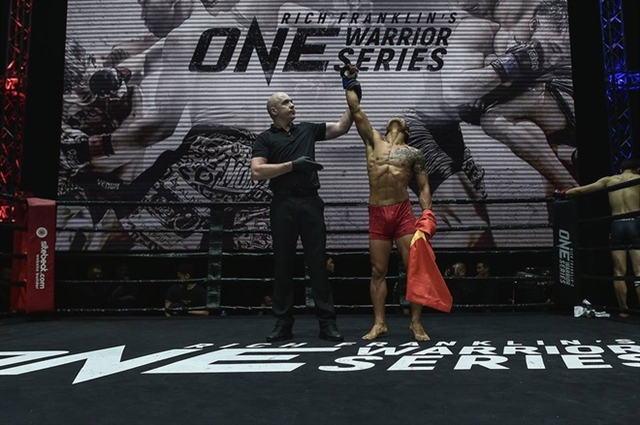 Trần Quang Lộc is announced winner of a ONE Warrior Series match last February in Singapore. Photo zing.vn
HÀ NỘI — Trần Quang Lộc, nicknamed the Tan Monster, has long been known as a trailblazer in the local mixed martial arts (MMA) scene, and now he's seeking to make his mark on the international stage.
The first Vietnamese fighter to take part in an international amateur MMA tournament in 2016 is now targeting a title in the ONE Championship, the world's largest martial arts organisation.
The ONE Championship features bouts across the full spectrum of martial arts such as muay thai, kickboxing, MMA, karate, silat, sanda, lethwei, taekwondo and submission grappling, among others.
Born in 1989 in Đồng Nai Province, Lộc fell in love with martial arts when his father taught him karate at age 10. He also trained in different styles including boxing, muay thai, Trung Sơn Võ Đạo, Nam Huỳnh Đạo and Liên Phong Quyền but the latter two made deep impressions on him.
Liên Phong Quyền gave him unique and rapid moves that allow him to deliver seven to eight punches or kicks in a short time, while Nam Huỳnh Đạo made him a master of inner force which improved his endurance and strengthened his blows.
"(With these martial arts) I became a movie stuntman and accidentally met movie star Johny Trí Nguyễn, who is also a kung fu master. He introduced me to MMA, which I was researching at the time. I've been practising it since then," he said.
Lộc joined Johny's Liên Phong School in HCM City where he has become the best trainer, although there were a lot of difficulties for the pioneers of the school as well as the MMA community, which was still seen as a strange sport in Viet Nam in 2010.
"I just trained with my iron will under strict discipline because there was no coach at that time. I pushed myself and set targets to reach for every training day," said Lộc.
After three years competing locally, Lộc made his international debut at the Warrior for Charity event in Malaysia in 2016, which made him the first Vietnamese MMA fighter.
Lộc won two matches and secured the belt of the lightweight category.
In 2017, Lộc was scheduled to fight his first two professional matches at the ONE Championship but they were cancelled as he had problems with his visa applications.
However last February, his dream came true in Singapore.
Lộc was invited to take part in Rich Franklin's ONE Warrior Series, a reality TV show where the winners would earn selection for the ONE Championship.
The series was launched by former UFC middleweight champion Rick Franklin, who is the vice president of ONE Championship and has more than 13 years of competing experience.
Lộc was one of a limited number of fighters who impressed him thanks to his powerful punches and active moves around the ring, as well as his speciality of heel kicks.
"It was an honour to be first Vietnamese professional MMA fighter and compete in the biggest Asian competition," said Lộc, who fought South Korean Kim Jong Heon in his competitive bout on the show.
It took the Vietnamese fighter just a little bit more than a minute to win after Kim was blooded from a kick to the shin. Referee Olivier Coste paused the match and asked for doctor's help. Minutes later he announced Lộc as the winner by KO.
The win was a milestone for the Tan Monster, but he refocused his gaze on a loftier goal, the ONE Championship.
His Warrior Series win was achieved without a real coach or support crew such as nutritionist, doctors and logistics crew.
"The lack of help meant I had to take time to develop my technique and recover physically," said Lộc.
"A wrong exercise, an unsuitable training plan, an unscientific meal and unreasonable rest will have bad consequences. This could strongly affect my fights and chance to win or even shorten my career," he said, adding that he had also struggled to find a competitor at the same level as him to train with.
The most important step is to find a coaching team who will not only take care of him better but plan his career, with the first target the ONE Championship's featherweight title.
"I believe in my ability. I always prepare well for all matches. I believe that a key factor to a win is a strong spirit which allows me to show my best for the win," he said. VNS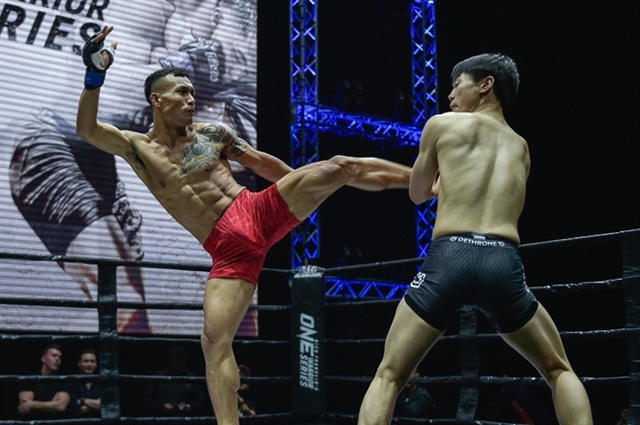 Trần Quang Lộc (left) lands a kick on Kim Jong Heon during their ONE Warrior Series match last February in Singapore. Photo zing.vn