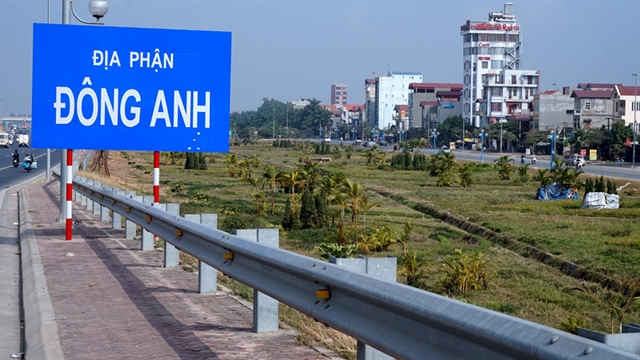 HÀ NỘI – Hà Nội's outskirts districts have been blighted by rampant and disorganised construction in recent years, according to officials.
Hà Nội People's Council recently warned about the situation in 92 communes of Gia Lâm, Đông Anh, Đan Phượng, Hoài Đức and Thanh Trì districts, reported Kinh Tế & Đô Thị (Economic and Urban Affairs) newspaper.
A lack of detailed planning and architectural designs, as well as rapid urbanisation, have been blamed for the situation.
Construction had become rampant in recent last years when the five suburban districts were categorised as inner-city level districts.
The city People's Council determined that previous construction planning was no longer suitable with the change of administrative division.
The suburban districts had not yet set planning boundaries, especially the demarcation line between urban and non-urban development areas.
This had caused many difficulties in managing and licensing construction activities in the districts.
Among the five districts, only Thanh Trì has entire communes located in the city's urban development area, meaning only it could legally allow construction projects to commence.
Granting construction licences in the districts had been at a slow pace, according to the city People's Council.
"The five outskirts districts were in a fast urbanisation process but licensing construction for private houses and big projects hit only 12-18 per cent of the target," Lê Văn Dục, director of Hà Nội's Construction Department told the newspaper.
"The slow pace of granting construction licences has resulted in violations which have caused difficulties in management and concerns among the public," said Dục.
For example, there were seven construction projects on agricultural land in An Thượng Commune of Hoài Đức District.
In Thanh Trì District, construction violations have occurred in both civil works and large-scale real estate projects such as Tân Triều Department and Office Complex, and Tứ Hiệp residential areas.
Meanwhile, district chairman of Đông Anh District, Lê Trung Kiên, told the paper urbanisation in its 23 communes and township had been at a rapid pace.
Many investors had proposed several large city-level construction projects in Đông Anh, Kiên said.
However, up to now, the district still had three urban planning projects which had not been approved, so it would be difficult to provide planning information and boundaries to implement the projects.
The construction violations were also due to a lack of management.
Under planning regulations, private houses along the Nhật Tân – Nội Bài route are not allowed to exceed three floors.
However, many households did not comply with the regulations.
In addition, too many houses have been built on smalls roads, leading to construction violations.
Thus, Thanh Trì District had asked Hà Nội People's Committee and construction department to adjust regulations on construction density in residential areas without detailed planning, Kiên said.
Per the Law on Construction in 2014, no licenses are needed to build private houses in rural areas. But due to being upgraded to a city district, many communes were planned as urban development areas. This had caused confusion among local authorities, Kiên told the newspaper.
Nguyễn Anh Trúc, director of Hà Nội's Planning and Architecture Department, said: "So far, the suburban districts have not yet had instructions on landscape architectural design and construction control in rural areas."
"Therefore, spontaneous and messy construction will continue to occur with an increase of dividing land plots for buying and selling," Trúc added.
This situation would create pressure on the population, infrastructure and ecological environment in outskirts areas which, he said.
Landscape architecture design and construction control in rural areas need close links between managers, consultants and owners of construction works, he said.
However, the field had not been given adequate attention by the municipal authority, he added. VNS