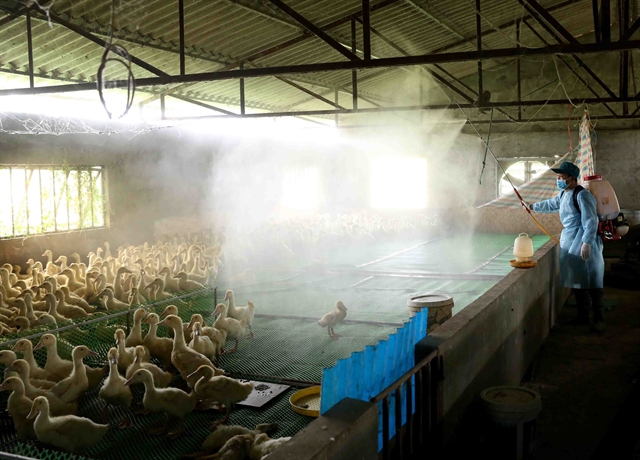 A veterinary staff sprays disinfectant at a household in Chương Mỹ District, Hà Nội. — VNA/VNS Photo Vũ Sinh
HÀ NỘI — The northern province of Bắc Ninh has reported two outbreaks of avian influenza caused by the strain A/H5N6, increasing the number of infected localities into five.
More than 43,000 poultry have been culled, according to the Department of Animal Health under the Ministry of Agricultural and Rural Development.
In Phú Vinh Ward in Phú Nghĩa Commune, the outlying district of Chương Mỹ where the first avian influenza outbreak was reported in Hà Nội, ducks – both dead and alive – are still being sold at a local market.
"These ducks are not infected, those with bird flu were destroyed," a seller told Nông thôn Ngày nay (Countryside Today) newspaper as she was trying to hide her ducks after being notified of an inspection from local authorities.
Đinh Mạnh Hùng, head of Chương Mỹ District People's Committee, said since February 3, some 7,000 ducks have been culled. Other uninfected birds have been vaccinated, a quarantine station has been set up at the ward's entrance and the whole area has been sterilised.
"The People's Committee asked residents to not sell poultry at local fresh markets or send them to other provinces to avoid spreading the disease," said Hùng.
Forty-four-year-old Ngô Văn Khải has sprinkled white lime powder around his farm to protect his flock of 3,000 ducks from catching avian influenza.
"The district department of animal health also helps spray disinfectant at local farms daily and gives vaccines to poultry," he said.
"In previous years, some 2,000 could bring my family an annual profit of VNĐ50 to 60 million (US$2,140 to 2,570). This year, under the impacts of avian influenza, as duck prices drop, we are suffering a loss of VNĐ70 to 80 million ($3,000 to 3,400)," he said.
Nguyễn Ngọc Sơn, head of Hà Nội Department of Animal Husbandry and Veterinary Medicine, said avian influenza caused by H5N6 was a dangerous, fast-spreading infectious disease, killing poultry en masse.
The department provided Chương Mỹ District Veterinary Station 450,000 doses of vaccines to prevent further outbreaks.
On February 12, a force led by Đàm Xuân Thành, deputy head of Department of Animal Health, carried out an inspection in Nông Cống District, central Thanh Hoá Province where the influenza was reported in 14 households, causing more than 24,000 poultry to be destroyed.
The outbreak was due to unvaccinated baby chicks bought and bred by local households.
Thành said it was vital to push back the disease as it could be transmitted to humans. Thanh Hoá Province, therefore, was urged to pull out all the stops to prevent the spread of avian influenza.
"Flocks which are vaccinated need monitoring for 21 days. If any symptom is detected, samples must be examined immediately for prompt interventions," said Thành.
"Households in infected areas are prohibited from selling poultry during the quarantine and restarting new flocks when the disease is not over," he added.
Last year, under the pressure of African swine fever which killed nearly 6 million pigs, Việt Nam's poultry flock increased by 16 per cent to meet the demand for meat, according to Nguyễn Xuân Dương, head of the agriculture ministry's Department of Livestock.
To prevent avian influenza, Dương said households should separate their poultry into smaller flocks to better monitor the disease.
Nguyễn Văn Long, deputy head of Department of Animal Health, said avian influenza caused by A/H5N6 was first reported in Việt Nam in 2014.
"We have developed vaccines to prevent the diseases," he said. "With 200 million doses, it is sufficient to protect domestic poultry from bird flu caused by both H5N1 and H5N6 strains." — VNS