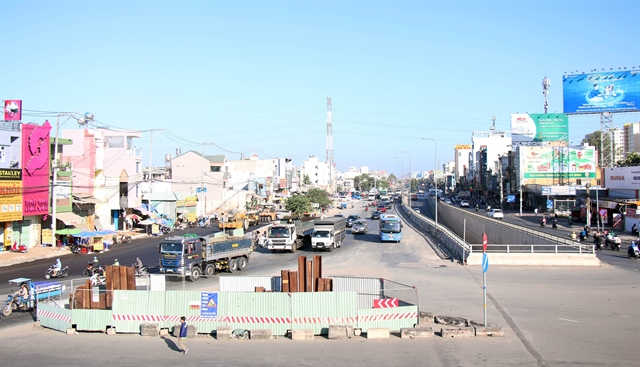 Construction of Tunnel N2 at the An Sương intersection in HCM City restarted on February 13 after a prolonged suspension. — VNA/VNS Photo Tiến Lực
HCM CITY — HCM City is taking steps to improve road and water drainage infrastructure to mitigate its traffic and flooding problems.
Construction of the second (Tunnel N2) of a double tunnel under the An Sương intersection restarted on Wednesday after prolonged suspension due to land acquisition problems.
It was suspended in February last year when affected households refused to accept the compensation amount and move.
Tunnel N2 will run 385 metres, taking traffic from Củ Chi District towards the city when it is completed by the end of July.
The 445m N1 taking traffic in the opposite direction was finished in March 2018 after nearly 13 months of construction.
Work on the double tunnel costing VNĐ514 billion (US$22.2 million) began at the start of 2017 and was originally expected to be completed by the end of 2018.
It is expected to ease traffic flow at An Sương intersection situated between District 12 and Hóc Môn District, where traffic jams and accidents regularly occur during peak hours.
The intersection is a junction of several major roads like national highways Nos 1 and 22 and Trường Chinh Street.
In another development, the Japan International Co-operation Agency will provide nearly VNĐ397.5 billion ($17.5 million) in the form of non-refundable aid to the city to reinforce old and degraded water drainage systems in urban areas using the sewage pipe renewal (SPR) method.
An agreement with the city for this is expected to be signed this month.
The work will cost VNĐ467.5 billion ($20.5 million).
It will upgrade and repair around 2.7km degraded sewer system, mostly in districts 1 and 3, contributing to flood control and prevention in the central areas.
The use of SPR will prevent the blocking of traffic flow during the construction.
About 100 kilometres of old sewers in the city need upgrades.
A memorandum of understanding (MoU) on strengthening management capacity in urban railway system in HCM City is expected to be signed soon.
The MoU will be signed by the city's Urban Railway Management Board, Urban Railway No 1 Limited Company and Japanese railway company Tokyo Metro. — VNS