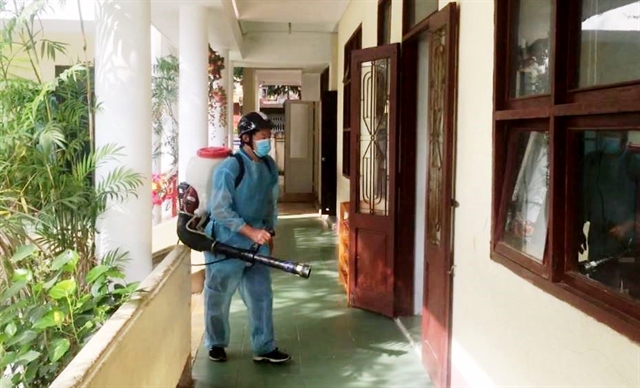 Schools in Quảng Bình Province are being cleaned and disinfected to prepare for reopening after two weeks off due to the COVID-19 outbreak. VNA/VNS.Photo Võ Dung
HCM CITY—Local officials in HCM City and Hà Nội announced yesterday that schools would remain shut for at least another week due to concerns about the spread of COVID-19.
The move means schools, universities and colleges in the country's two biggest cities will have been shut for a full three weeks after the end of the Tết (Lunar New Year) holiday.
As of February 14, 41 provinces and cities had planned to reopen on Monday following the Ministry of Education and Training's statement that provinces and cities where COVID-19 has not appeared could open after two weeks off.
Schools are required to have chairs, desks, classrooms and their campus disinfected and cleaned.
Speaking at meeting with the National Steering Board for Prevention and Control of COVID-19 held yesterday in Hà Nội, Deputy Prime Minister Vũ Đức Đam said that if parents and students were still worried, provincial and city authorities should keep schools closed. Classroom safety would be assessed by health experts.
Đam said that despite problems posed by the closure, the health and security of the people were paramount.
On February 11, Đam told the Ministry of Education and Training to quickly issue detailed guidance for managers of relevant agencies as well as teachers, students and parents on how to ensure safety when students return to school.
Schools should carry out preventive measures to ensure that their classrooms are safe and increase communications with parents to lessen their anxiety about the reopening of schools.
Most universities throughout the country were still closed as of Friday afternoon. Several of them have delayed their examinations.
The Industrial University of HCM City has 45 students from the northern province of Vĩnh Phúc, which has the highest incidences of COVID-19 in the country. Many of the 45 students live in a dormitory, which increases the risk of transmission if any of them becomes infected with the coronavirus.
As a result, the university will keep the university closed until Sunday and adjust its schedule for the end of the academic year.
The HCM City University of Law will remain closed until March 1, and will provide e-learning courses during the period. Examinations between February 15 and March 1 will be delayed.
Other universities such as the HCM City University of Economics and member universities of Việt Nam National University-HCM City will reopen on Monday. The universities will measure body temperatures of staff, lecturers and students and their health official will be on duty round-the-clock. All students will receive face masks.
In the dormitories, dedicated rooms for measuring body temperatures will be set up, and any student with suspected symptoms will be isolated.
A team led by Deputy Minister of Education and Traininig Nguyễn Văn Phúc has checked the prevention and control meaures for COVID-19 at several universities.
Late yesterday afternoon, Minister of Education and Training Phùng Xuân Nhạ said the ministry could reschedule the end of the school year to ensure the health of students. VNS