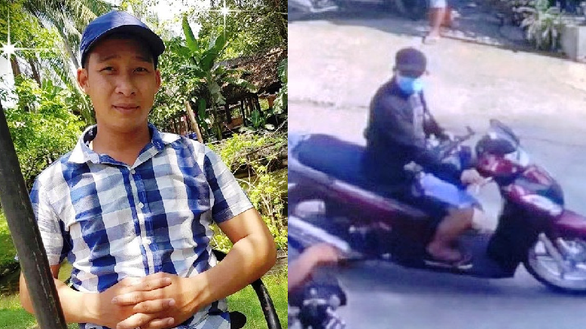 An image of Lê Quốc Tuấn, who has been killed by HCM City's police task force on Thursday at midnight. Photo courtesy of the Ministry of Public Security
HCM CITY — Lê Quốc Tuấn, who reportedly killed five people and injured three others with an AK-47 in suburban Củ Chi District in HCM City, has been killed after being on the run for more than two weeks.
The Ministry of Public Security revealed that Tuấn, a lieutenant of the District 11 police division, was killed in a police raid while hiding in a house in Hóc Môn District in HCM City at midnight on Thursday (February 13).
Tuấn's body was found lying next to the loaded AK-47. He had reportedly opened fire on police before being shot from a distance of about three metres.
Tuấn was hiding in a house on the border of Bình Mỹ Commune and was surrounded by many other households. All households had been evacuated before police began the raid.
At 10.50pm on Thursday night, an armed task force equipped with bullet-proof vests from HCM City Police Department approached the house at close range.
Officers also surrounded the exterior of the property.
Tuấn was identified as being alone in the house with the assault rifle.
A gunshot was heard from the house, and a barrage of bullets followed. The police later announced the man had been killed and the house was clear.
Traffic along provincial expressway No.15 was blocked until the convoy of police left the area at 1.23am.
The mass shooting occurred on Wednesday 29 January – the last festive day of the Tết (Lunar New Year) holiday – when Lê Quốc Tuấn, 33, reportedly shot four people and injured one with an AK-47 at an illegal gambling site in Tân Thạnh Đông Commune in suburban Củ Chi District, about 30km northwest of the city centre.
Tuấn was said to be one of the gamblers. He fled the scene. During his escape, another armed robbery with one more person shot dead was reported in Củ Chi the next day which many believe was in connection to Tuấn. Two others managed to escape and were injured, including a motorcyclist and a van driver.
HCM City police issued a nationwide warrant for Tuấn for murder, robbery and illegal use of military weapons. — VNS