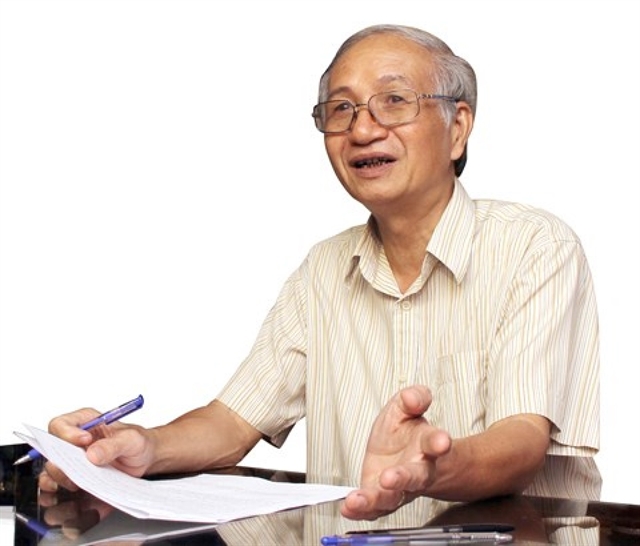 Architect Đào Ngọc Nghiêm. Photo baoquocte.vn
Architect Đào Ngọc Nghiêm, former director of the Hà Nội's Department of Planning and Architecture, says the proposal to make the Hà Nội Red River Delta the new 'Capital Region' would not receive strong support from the public or experts
What's your opinion on the plan to enlarge the Red River Delta area to include Hà Nội and the provinces of Bắc Giang, Phú Thọ, Thái Nguyên and Hòa Bình?
According to the plan, Việt Nam will be divided into seven regions, of which the Capital Region is among them.
The key objective of the plan is to create a close link between all seven regions and a fair playing field among these regions.
For the northern region, we should not call it 'the new Capital Region'. The term 'Capital Region' itself already reflects its role towards its neighbouring provinces.
In the past, there were two decisions to create the Capital Region. In the second decision, in its planning scheme, the Capital Region would have nine provinces, instead of six provinces as in the first planning scheme. However, until now such a plan remains on paper alone.
In its development, Hà Nội wants to have synchronous development to serve as a locomotive in the development of the Hà Nôi region itself and also the Red River Delta.
There is a different concept on the role of the Capital Region and the Red River Delta. We should not put the two concepts into one basket. I don't think the general public or many experts will support that idea.
How many times has Việt Nam come up with an idea of revising regional planning?
Under the 1946 Constitution, Việt Nam was divided into three regions – the northern, the central and the southern regions. However, that decision didn't help solve anything and had no significance. That's why Việt Nam was then divided into six economic regions as nowadays. Among the six economic regions, there are some key regions. This plan is suitable for the development of the country when Việt Nam has just come out of the threshold of a middle-income nation.
If we want to make a change in the plan, the change should be close to developments in real life.
What should the foundation be for revising regional planning?
The most important thing we should do is to understand the relationship between a region with its neighbouring provinces.
According to the Constitution, the relationship between provinces in a region is based on their mutual understanding and discussion, not on administrative decisions.
Adding to that there is a proposal that the Chairman of a region is rotated among the Chairmen of each member province. But under the Constitution, a region is not recognised as an administrative unit. Each province in the region is an administrative unit by itself.
Do you have any more comments on the proposal of creating a new Capital Region?
I'm sorry to say that I don't support the proposal. Making any change in administrative management is very costly. That's why we have to think twice before making any decision._VNS