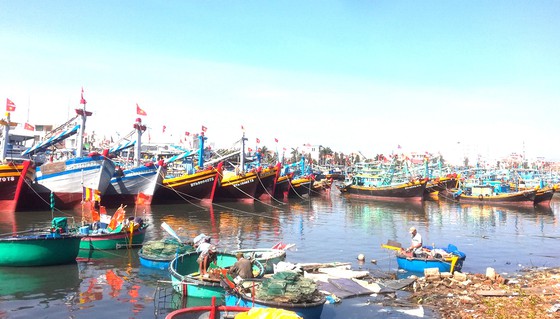 A lack of labourers after Tet has affected the fishing industry in Bình Thuận Province. —Photo courtesy of sggp.org.vn
HCM CITY — Bình Thuận Province, one of the three key fishing grounds nationwide, is facing a serious shortage of labour after Tết (Lunar New Year) holiday.
According to Sài Gòn Giải Phóng (Liberated Sài Gòn), hundreds of fishing boats along Phan Thiết, Lagi and Phú Hài beaches are inactive due to the lack of labour needed to set sail.
On the third day of the Lunar New Year, Nguyễn Quốc Anh begins to sail offshore but he decided to stay on shore this year because of the lack of workers.
"Each trip requires about 10 workers. I have contacted many places and even agreed to pay three times higher than usual, but I cannot find enough people to accompany me. I honestly do not know what to do next," he said.
Similar to Quốc Anh, Nguyễn Trường Hải said he started his first sail on the 6th day of the first lunar month as it was a lucky day but he quickly returned due to the limited number of workers on the ship.
Experienced fishermen in the area said that depleting fishing grounds have also made it more challenging to pursue their job.
Solutions
Huỳnh Quang Huy, director of Bình Thuận Province Fisheries Division, said that labour shortages are common after Tết holiday, but no effective solution has been introduced to tackle the problem.
"To solve this, the State needs to have preferential policies on labour training for those keen on pursuing the field," he added.
According to State policy, 12m-long fishing vessels should have at least one chief engineer responsible for machinery engineering.
However, many local fishermen are concerned that it is already difficult to find casual workers, not to mention one engineer.
Also, a ship owner has to have sufficient training in ship management and operation of machinery on the ship, so hiring another chief engineer would cost extra money.
Huy said that to ensure stable human resources for seafaring, ship owners need to prepare a contract for fishermen traveling with them.
Many ship owners said this was difficult to do and have sought support such as favourable insurance policies from relevant authorities.
Huy added that it is important for ship owners to take advantage of scientific and technological advances to increase fishing output. — VNS