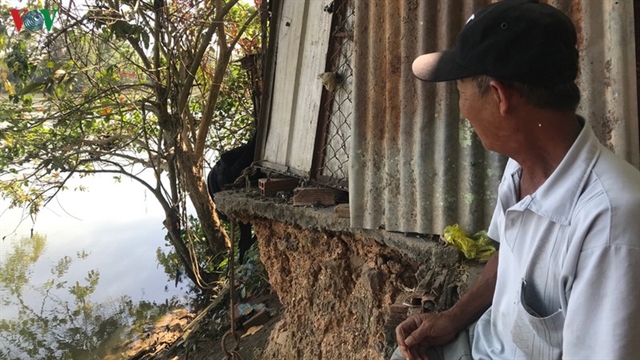 Hồ Văn Hùng, 60, whose family lives near Đồng Nai River in Tân Uyên Township, worries about erosion threatening their home. — Photo vov.vn
BÌNH DƯƠNG — Erosion along riverbanks in the southern province of Bình Dương's Tân Uyên Township has become more serious in recent years and greatly affected local residents.
"Erosion has occurred in Thạnh Hội Commune," said Hồ Văn Hùng, 60, whose family lives near the Đồng Nai River.
"Each year, land belonging to my family narrows due to riverbank erosion. The eroded section is deepening.
"The eroded area is 3-4m wide and dozens of meters long. Whenever it rains heavily, my family has to send people to check the section. If erosion occurs, we must move our furniture right away," Hùng said.
Hùng's family was one of nine households in Thạnh Hội Commune, and another 12 other families living in Thái Hòa Ward, Tân Uyên Township worried about riverbank erosion, vov.vn online newspaper reported.
Hoàng Thị Hoa, a woman living in Thái Hòa Ward, said that the river could swallow the small road in front of her house.
She feared the coming time her house could collapse into the river because long cracks began appearing on the wall.
Bắc Tân Uyên District is reported to have 65 households living in the area under threat.
According to many local people, the cause of erosion was illegal sand mining, which had increased to meet the demands of construction projects.
"The increase of illegal sand mining on the river affects the riverbank," Hoa said.
"At present, there are many large barges on the river, transporting sand and stones."
Barges mainly docked near the stone quarry in Thường Tân Commune of Bắc Tân Uyên District.
However, Hoa and many local residents commented that local authorities and relevant agencies have not yet dealt with the issue, so there were still many illegal sand mining operations.
Trương Văn Thanh Giang, Vice Chairman of Thạnh Hội Commune People's Committee, said local police and officers from Tân Uyên Township have taken turns patrolling the area.
He also said authorities in Tân Uyên Township directed the communes to arrange resettlement areas. But he said persuading households to move was not easy.
"The majority of the households living along the river don't earn much. While the cost of relocation supported by the State is low, people are willing to relocate but they are worried there is no money to set up a new life," Giang said
The average support budget for relocation was approximately VNĐ10 million per house of less than 100sq.m.
The People's Committee of Tân Uyên Township has been intensifying the implementation of natural disaster prevention in areas along Đồng Nai River to stabilise people's lives, as well as production.
At the same time, local authorities were also calling for more funding to build new embankments.
According to Lê Minh Phương, head of the Economic Department of Tân Uyên Township, local authorities have set up a survey team to list households at high risk of erosion along the river.
"The local authorities are developing a plan of land acquisition and compensation under the 2013 Land Law so that households will have enough funds to relocate to new places," Phương said. — VNS