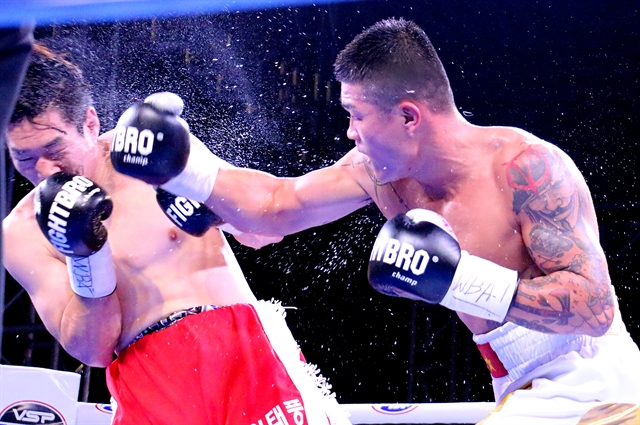 Vietnamese Trương Đình Hoàng punches South Korean Lee Gyu Hyun to win the WBA Asia East title last October. He will defend his WBA Asia belt next month in Manila. VNS Photo Đoàn Tùng
Boxing
HÀ NỘI Top Vietnamese boxer Trương Đình Hoàng will defend his World Boxing Association Asia super middleweight title on February 15 in Manila, the Philippines.
Hoàng will fight Thai boxer Yuttanna Wongda in a 12-round match during the Highland International Boxing Promotion event at the Manila Arena.
Hoàng is defending champion of the WBA Asia East bout after beating South Korean Lee Gyu Hyun on points after 10 rounds in the 76kg class in Hà Nội last October.
However, he was upgraded to the WBA Asia champion later on.
"After the WBA Asia East title, I challenged WBA Asia champion Meena Brijesh of India. But for some reason, he refused to fight, so I was promoted to be the WBA Asia champion," said Hoàng, 29, who is currently training in Thailand.
Hoàng is an 11-time national champion and turned professional early last year. He has had two fights as pro, winning both, with one coming by knock-out.
His Thai rival on the other hand is much more experienced.
The 31 year-old has fought 37 bouts that include 13 wins (nine by KO) and 24 losses (17 by KO).
"I have searched about Wongda. He has fought a lot and had good results. He has a good physique and his punches are powerful," Hoàng said.
"It will be a tough match but I am targeting a win. I will work hard, even throughout the Lunar New Year festival for this match if necessary, so I can maintain my position. I hope everything will go well," he said.
Hoàng's coach Do Dong also talked up Wongda's skills.
"He is a strong opponent. He is really more experienced than our fighter," he told Việt Nam News.
"We started our training last month and we have no choice but fight him. We will try our best," he said.
February is shaping up to be a busy month for Hoàng, as he will also take part in Tokyo Olympics qualification in the Asia and Oceania zone, in Wuhan, China, which being held from February 3-14.
Hoàng will leave for the qualifiers on February 1. Five fighters in the middleweight category will win Olympics' slots in the Honhsgan Gymnasium. VNS