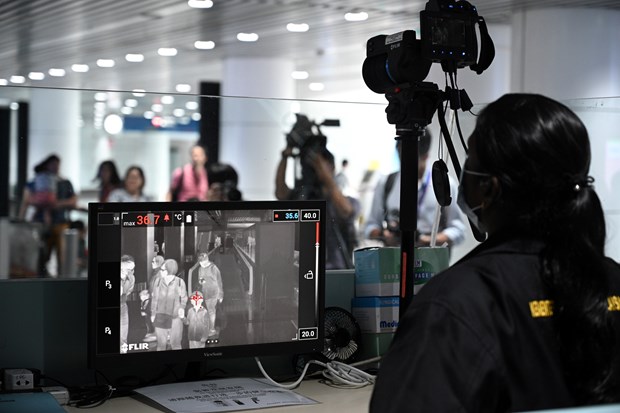 Passengers' body temperatures are examined via a thermal scanner at Kuala Lumpur International Airport of Malaysia on January 21. — AFP/VNA Photo
HÀ NỘI — Deputy Prime Minister Vũ Đức Đam has reiterated the priority given to the prevention and fight against epidemics, as the number of patients infected with the novel coronavirus (nCoV) continues to rise.
Speaking at a meeting of the steering committee on the prevention of new and dangerous diseases and epidemics held in Hà Nội on Sunday, the official said the Government and Prime Minister remain attentive to the situation.
The common perception of the Government is to focus attention on the earliest possible detection of suspected cases, so as to contain the spread, he said, stressing that the work must be carried out even at the expense of economic benefits.
The Deputy PM also ordered relevant authorities and localities to increase attention to the management of those who come from affected areas in Việt Nam, as well as foreign tourists, noting that measures taken by the country have so far proved effective although Việt Nam sees many arrivals and departures by Chinese nationals.
Đam asked them to work with health authorities and intensify awareness-raising campaigns.
Deputy Health Minister Đỗ Xuân Tuyên said Việt Nam has counted 59 suspected cases of nCoV, with two testing positive for the virus and being treated at the Chợ Rẫy Hospital in HCM City. Both patients are Chinese.
Health experts said health declarations at border gates are very important, but the number of cases detected is low, meaning checks need to be increased at hospitals so as to detect the infection as soon as possible.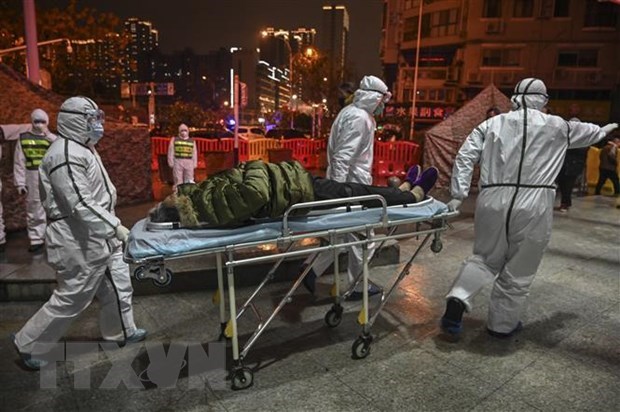 Health workers carry an nCoV-infected patient to the Red Cross Hospital in Wuhan city, Hubei province, on January 25. — AFP/VNA Photo
A total of 17 Vietnamese students and their relatives are in Wuhan city in the Chinese province of Hubei – the centre of an acute respiratory disease caused by nCoV. The students are in a stable health and psychological condition, and none have been recorded as having the virus, the Vietnamese Embassy in China said on Sunday.
The Foreign Ministry of Việt Nam said the embassy has given citizens instructions on how to respond to the disease while liaising with local authorities to extend the visa for one Vietnamese tourist stranded in Hubei due to the nCoV outbreak.
The Foreign Ministry has ordered Việt Nam's overseas representative agencies to keep a close watch on the epidemic and ready their hotlines to support Vietnamese citizens when necessary.
Those seeking help can dial the citizen protection hotline of the Vietnamese Embassy in China +8613120363638; the Vietnamese consulates general in Shanghai +8613661537498, in Kunming 0086 13099948529, in Nanning +8618587897059, in Guangzhou +8613247675268, and in Hong Kong +85225914510; or the citizen protection switchboard +84981 84 84 84.
Vietjet Air gets exceptional permission to fly Chinese back to Wuhan
Deputy Transport Minister Lê Anh Tuấn has said the Civil Aviation Authority of Vietnam (CAAV) has allowed Vietjet Air to operate four flights from the central province of Khánh Hòa to the Chinese city of Wuhan – the epicentre of the coronavirus outbreak – to fly Chinese tourists home.
The Deputy Minister said this is an exception, as the CAAV had ordered the cancellation of all flight permits and suspension of new permits for all flights, both regular and non-regular, between Việt Nam and Wuhan.
He noted the flights operated by Vietjet only carried passengers from Wuhan back to China and the return flights were empty, adding that all crewmembers on those flights had to undergo health checks, and aircraft were sterilised in line with regulations.
Vietnam Airlines and Jetstar Pacific have also confirmed that they are operating no direct flights to and from Wuhan at present.
The two carriers will refund tickets or change flights for free for passengers who were booked on flights to and from Chinese cities since January 24 till new announcements are made.
The CAAV also asked regional airports and Vietnam Airports Corporation to partner with health quarantine agencies to promptly discover, isolate and closely check cases of suspected infection.
By the end of January 26, 80 deaths from nCoV and 2,744 infected cases had been reported in China.
The virus has spread to more than 10 countries around the world. — VNS