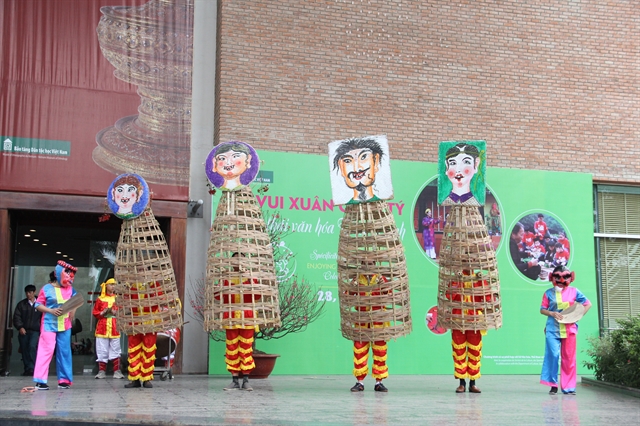 Artists from Thái Bình Province perform a dance of legendary giants who created the Earth during a rehearsal at the museum. — Photo courtesy of the museum
HÀ NỘI — The Museum of Ethnology will host the spring festival on January 28-29, featuring unique culture from the northern province of Thái Bình, including chèo (traditional operetta), dances, games and cuisine.
The museum, in collaboration with Thái Bình Province's Department of Culture, Sports and Tourism will organise the festival with the theme 'Colourful Culture of Thái Bình' to celebrate the Year of the Rat.
Festival-goers will have the chance to enjoy unique folk singing, dancing and performing arts of Thái Bình, namely chèo performed by artists from Khuốc Village, Ông Đùng Bà Đà – a dance of legendary giants who created the Earth – and múa tứ linh – a dance of lions, dragons, phoenixes and tortoises to pray for prosperity, longevity, strength and happiness.
Children will learn to print folk paintings, make bánh chưng (square sticky rice cake) and make toys in the shape of rats.
The festival this year will comprise other activities, such as giving calligraphic works and water puppetry performances.
As all spring festivals held annually at the museum, the most anticipated part is the firework display, scheduled for the evening of January 28.
The museum's director Đặng Xuân Thanh said the spring festival at the museum is a place where members of the family can enjoy Tết together and learn more about regional culture.
"Through the programme, we hope to preserve and promote the specific traditional values of Thái Bình. It's also a chance for the artisans to introduce their heritage." — VNS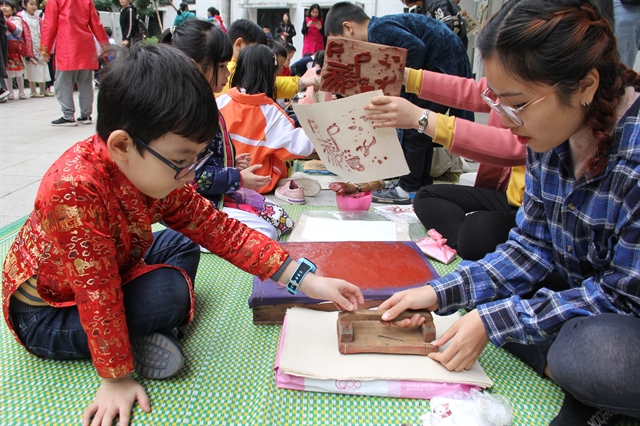 Children learn to print traditional folk paintings at the Museum of Ethnology. — Photo courtesy of the museum