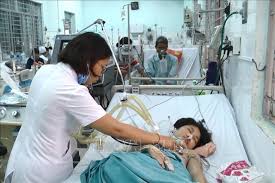 A patient receives treatment at a hospital in Đồng Nai Province. — VNA/VNS Photo Lê Xuân
ĐỒNG NAI — Health insurance funds that cover insured patients ran out last August at many hospitals and health centres in the southern province of Đồng Nai, affecting insured patients' benefits, according to the provincial Department of Health.
Like other provinces and cities, the Government last year allocated a certain level of funds to health facilities in Đồng Nai Province under the health insurance fund for coverage of insured patients.
The funds were delivered to health facilities last April but later ran out. As a result, local hospitals had to take money from their budgets or ask for temporary advances from suppliers of medicine and medical materials to cover services.
The amount of funds had been underestimated because of an increase in the number of patients and the use of new medical techniques.
In Long Khánh Regional General Hospital, for instance, its estimated fund amount ran out last October, primarily because 27 new techniques were used and the number of inpatients and outpatients increased by 20-23 per cent compared to 2018.
Last year, the hospital lacked VNĐ60 billion (US$2.6 million) for its health insurance fund, double the amount compared to 2018.
Dr Nguyễn Đức Phước, director of a health centre in Trảng Bom District in the province, said that last year the centre lacked VNĐ15 billion, and that the Viet Nam Social Security's health insurance fund has still not provided funds to make up for the shortage.
The centre has a debt of nearly VNĐ7 billion that it owes suppliers, according to Phước.
In addition, the centre does not have enough funds to provide new techniques or perform surgery, so it has had to send patients to other provincial hospitals.
Large hospitals such as Đồng Nai General Hospital and Thống Nhất General Hospital are in the same situation this month.
Hospital managers have had to use reserve funds to operate and pay salaries to their staff, and have had to temporarily reduce high-tech services for patients.
Lê Quang Trung, the department's deputy head, said the situation had been alarming since last August. Despite this, the department had instructed health facilities to ensure quality treatment for insured patients.
The department had reported the situation to the provincial People's Committee, which had been asked to assist them in the future, Trung said.
The provincial-based Việt Nam Social Security said it would provide an additional VNĐ176 billion to make up for the lack of funds of last year. — VNS