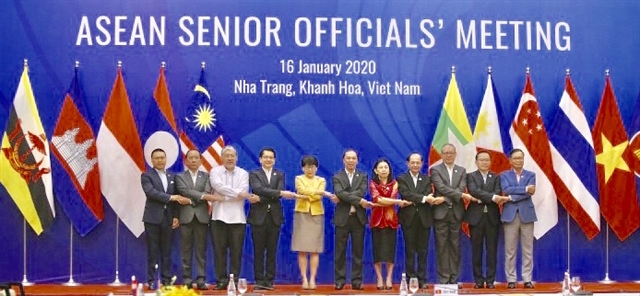 Senior officials from ASEAN member countries at a recent meeting in Nha Trang. VNA/VNS Photo Thống Nhất
Bồ Xuân Hiệp
HCM CITY — With uncertainties and increasing rivalry among major powers in the world, ASEAN, especially Việt Nam, will need to rely on its own devices to drive growth this year, economists said.
With slower global growth expected this year, ASEAN's prospects would depend on its ability to boost domestic demand, they said.
According to a recent HSBC report, the region is fortunately about to embark on a new investment cycle led by a planned surge in public infrastructure spending.
Growth should improve in 2020, but enacting key reforms this year is essential for sustaining it over this decade.
Last year ended on an optimistic note amidst a slight thaw in US-China trade relations and improving global economic data, but this optimism could dissipate.
Global growth may slow, led by weaker activity in China and the eurozone, not to mention geopolitical risks.
ASEAN, located at the centre of a vast area connecting the Indian and Pacific Oceans, has both opportunities and challenges.
With a population of more than 642 million and an area of more than 1.7 million square kilometres, ASEAN represents a market with huge potential, a vibrant economy and a bright spot in the global economy.
ASEAN members have also been striving for new heights, harnessing the benefits of the Fourth Industrial Revolution by adopting new technologies such as AI and cutting-edge robotics.
However, the increase in protectionism and trade friction among super powers are posing challenges and hindering global trade and economic growth.
Meanwhile, disparities in economic development among member states and demands for deeper integration in a new phase of development require "appropriate" economic policies, experts said.
Recommendations
ASEAN needs to maximise its opportunities and address challenges to sustain sustainable growth, they said.
To persevere and respond to turmoil in the region and the world, ASEAN needs to maintain solidarity and unity, bolster economic resilience, speed up its response to emerging challenges, foster innovation, and reinvent itself to move forward.
Tim Evans, CEO of HSBC Việt Nam, said the region has achieved incredible economic development over the past 20 years.
However, the region runs the risk of slowing growth and the key will be how policymakers continue to build greater connectivity across the trade block, he added.
HSBC research suggests Southeast Asia's contribution to global GDP could rise to 8 per cent if reforms are made.
According to the report, it is important to foster a more linked region by further cutting non-tariff trade barriers and developing infrastructure.
While most tariffs have been removed across Southeast Asia, more than 6,000 non-tariff trade barriers have emerged in the region.
"The region has been successful in removing virtually all formal tariffs; however, we're seeing the emergence of 'below-the-line' trade barriers instead," Evans said.
"These can impact the region's ability to attract further international investment, particularly in areas linked to the increasing shifts in supply chains, if left unaddressed."
A significant offset to these barriers will be the ASEAN-led Regional Comprehensive Economic Partnership (RCEP), which includes 30 per cent of the world's population and 29 per cent of the world's GDP.
The trade deal is expected to be signed early this year.
Besides, it is vital to ramp up investment in sustainable infrastructure that will both bring the region closer together and expand the opportunities for industry.
According to the Asian Development Bank (ADB), Southeast Asia needs to invest US$210 billion or 5 per cent of its GDP a year over the next decade in infrastructure just to maintain current levels of growth.
And this challenge is compounded by the environmental threat facing the region.
The ADB estimates that if left unaddressed, climate change could reduce the region's GDP by 11 per cent by the end of the century.
ASEAN member states will need to be increasingly focused on smoothing the path for greater private sector investment in infrastructure.
It is also necessary for ASEAN to create a seamless digital region by improving digital connectivity.
Digital technology has the potential to play a key role in driving the development of new industries and growth.
But to realise that potential the region has to agree on a common set of standards for data handling and digital commerce, which will encourage businesses to share data.
Different digital regulatory regimes across Southeast Asia limit the ability of both local firms and multinationals to reap the full benefits of economies of scale, weakening its attraction as an investment destination.
The Master Plan on ASEAN Connectivity is important to enhance data management, facilitate harmonisation of data regulations among ASEAN member states and promote intra-ASEAN data flow.
Reforms needed for Việt Nam
This year will be a significant one for ASEAN and Việt Nam as the bloc will conduct a mid-term review of the implementation of the Master Plan on building ASEAN Community by 2025 and the country will assume non-permanent membership of the UN Security Council.
A number of key reforms are expected in the country this year in which infrastructure is a crucial area, especially fiscal-related reforms.
Given Việt Nam's budget constraints and increasing demand for more public infrastructure, the private-public partnership (PPP) model has become a 'sustainable' solution for financing infrastructure works.
To encourage private investors, more reforms are needed to address PPP-related issues, and the country is taking steps in this direction.
Expected to pass this year, the revised PPP Law is looking to strengthen the legal framework and address some issues that concern investors.
The country is seeking to continue its fiscal consolidation to further bring down high public debt-to-GDP ratio.
The new Law on Taxation Administration, which takes effect in July this year, is a positive move to strengthen the tax collection mechanism.
In the banking sector, from this year all banks in Việt Nam would have to meet Basel II norms, which require a minimum capital adequacy ratio (CAR) of at least 8 per cent.
Only 16 domestic and two foreign banks have met the requirements so far. Small banks are under pressures to increase their capital to meet the standards.
This year is a big one for Việt Nam's foreign policy as the country has taken over as ASEAN chair.
Việt Nam has selected the theme "Cohesive and Responsive" for ASEAN 2020, which reflects the need to enhance ASEAN unity and solidarity, economic integration, ASEAN awareness and identity, and working towards a "people-centered" community.
Việt Nam's chairmanship will focus on upholding ASEAN's responsibilities and positive roles in maintaining regional peace, security and stability on the basis of strengthening the bloc's solidarity and unity.
The country has set a number of priorities based on ASEAN's goals enshrined in the ASEAN Community Vision 2025 and seeks to build upon the themes and priorities set by previous chairs.
The priorities include strengthening unity and solidarity and reinforcing ASEAN centrality, contributing to regional peace and stability amid strategic complexities. — VNS