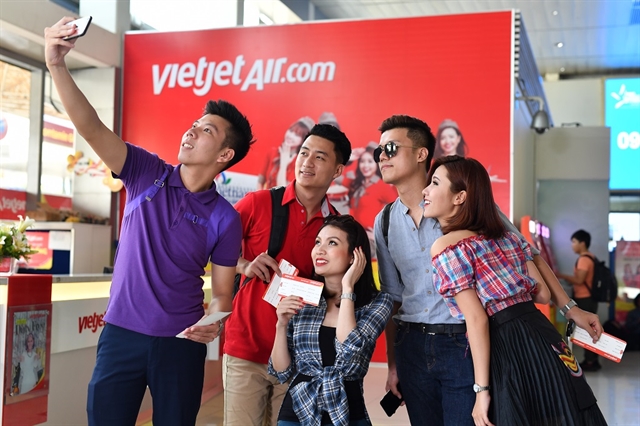 Vietjet's passengers pose for photo before boarding a flight. Photo courtesy of Vietjet
HCM CITY — Budget airline Vietjet will provide passengers with millions of promotional tickets priced only from zero đồng between December 10 and 12 to celebrate its four international routes.
These airfares, available from noon to 2pm, will be applied for all Vietjet's international routes to Japan, South Korea, Taiwan, Hong Kong, India, Indonesia, Thailand, Singapore, Malaysia, Myanmar and Cambodia, besides other routes operated by Vietjet Thailand.
The flight period is from January 3, 2020 to October 24, 2020 (excluding national public holidays), the airline announced on Friday.
The airline's four newest international routes will be Đà Lạt and Cần Thơ-Seoul, Cần Thơ-Taipei and Hà Nội-Bali.
The Đà Lạt-Seoul route will operate four return flights per week starting from January 15, 2020 while the Cần Thơ-Seoul route will operate three return flights per week starting from January 16, 2020.
Meanwhile, four return flights per week on the Cần Thơ-Taipei route will be available from January 10, 2020 and daily return flights will be provided on the Hà Nội-Bali route from January 26, 2020. — VNS