HÀ NỘI — Việt Nam bagged five more gold medals on the second official competition day of the ongoing 30th Southeast Asian (SEA) Games in the Philippines yesterday.
The Kurash wrestling team had a great day, with Lê Đức Đông, Trần Thị Thanh Thủy, Vũ Ngọc Sơn, Bùi Minh Quân and Nguyễn Thị Lan adding five gold medals, raising Việt Nam's total over all sports to 15.
Đông triumphed in men's kurash 66kg, Thủy won the women's 70kg and Sơn defeated a Filipino athlete in the final of the men's 73kg.
In the men's under 81kg, Bùi Minh Quân brought the fourth gold, and Nguyễn Thị Lan scored a gold in the women's under 70kg.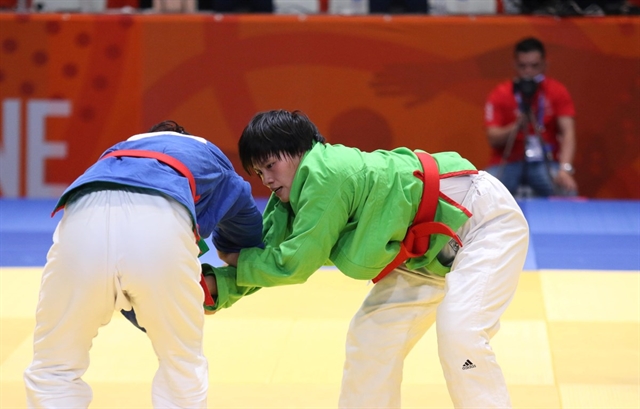 Meanwhile, arnis martial arts was another strong suit for Việt Nam, with five silver medals added to the tally.
Văn Công Quốc brought home a sliver in men's arnis under 55kg, Nguyễn Đức Trí got one in men's arnis under 60kg, Vương Thanh Tùng brought one in men's arnis over 65kg, Nguyễn Thị Hương got one in women's arnis under 50kg, and Nguyễn Thị Cúc got the last in women's arnis over 60kg.
In weightlifting, top hope Thạch Kim Tuấn failed to win a gold after a total lift of 304kg. He came second.
Tuấn and his top rival from Indonesia Yuli Eko Irawan failed in the first snatch category with an attempt of 135kg, but were both successful at the second time of asking. However, in the last snatch, Irawan easily beat Tuấn as he passed 140kg.
In clean and jerk, Tuấn took the 160kg attempt successfully, while Irawan made it to 163kg. In the next two attempts, Tuấn failed at 169kg while his rival succeeded and took the gold.
Nguyễn Thị Thúy won a silver in women's 55kg with a total lift of 197kg (snatch 82kg, clean and jerk 115kg). The gold was won by Filipino athlete Hidilyn Diaz with a total of 211kg.
On top of the golds and silvers, Việt Nam bagged another three bronzes on the day.
In women's duathlon (run-bike-run), Nguyễn Thị Phương Trinh won a bronze, marking Việt Nam's first medal in their first entry to the event.
The gold was won by host and Asian champion Monica Torres.
In weightlifting, Ngô Thị Quyên snatched the second bronze in women's 49kg. Her total lift was 172kg (snatch 75kg, clean and jerk 97kg), following Indonesia and Myanmar at 190kg and 180kg.
"I was really disappointed after my performance today. I really could do better at my training courses. One thing I have to admit was Indonesia did send their strongest athletes to this event," said Quyên.
Meanwhile, Phạm Quốc Khánh got a bronze in men's wushu forms and sparring category.
In 3×3 basketball Việt Nam men won a bronze after beating Thailand 21-17, while the women's 3×3 basketball team lost to host Philippines 14-21.
Việt Nam have accumulated a total of 51 medals, with 15 golds, 20 silvers and 16 bronzes in the second competition day of the 30th SEA Games. — VNS