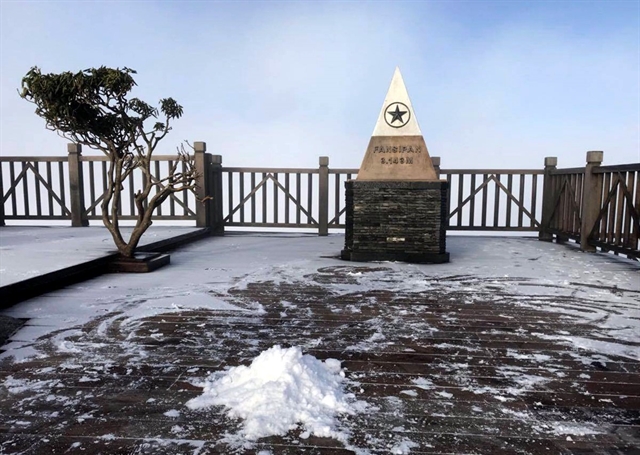 Snow has appreared on Fansipan Mount Peak in Sa Pa Town, northern mountain province of Lạng Sơn. — VNA/VNS Photo Quốc Khánh
SA PA — Tourists are flocking to Sa Pa Town in the northern mountain province of Lào Cai to enjoy the first drops of snow due to a cold spell currently overwhelming the region.
The cold started to hit Sa Pa and some others nearby localities including towns of Bắc Hà and Phố Ràng since the beginning of the month and was forecast to continue in the coming days.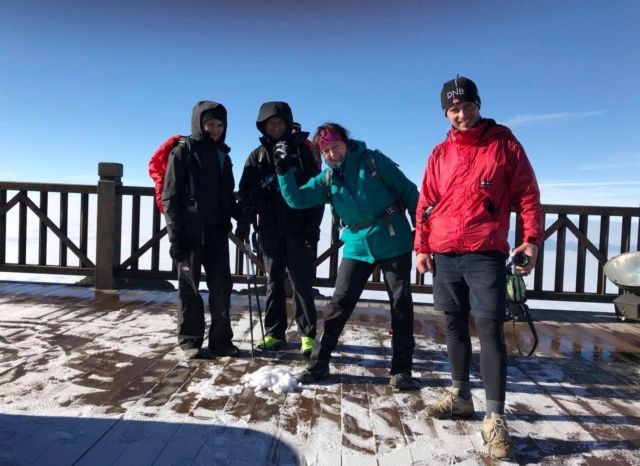 A group of tourists are enjoying the first drops of snow on the Fansipan Mount. — VNA/VNS Photo Quốc Khánh
Snow has particularly covered Fansipan Mount, Việt Nam's highest peak, 9km southwest of Sa Pa. As of Wednesday morning, local weather services were reporting temperatures dropped to 1.2 degrees Celsius in Sa Pa Town.
Snow is covering over many areas in Sa Pa and others towns in Lào Cai Province. — Photo kênh14.vn
Winter festival
A winter festival started last weekend in Sa Pa hoping to attract thousands of domestic and foreign visitors to the famous destination which nestled 1,600 metres above sea level in the northern mountain region.
Themed "Snowy Paradise", the event was launched by the Sun Group's Sun World Fansipan Legend Company offering a joyful Christmas atmosphere, with many new and interesting attractions such as an 18m-high Christmas tree made up of 160 transparent crystal blocks, a 50m ice tunnel and entertaining music performances.
Speaking at the opening ceremony last weekend, Director of the Sun World Fansipan Legend Company Nguyễn Xuân Chiến announced the company has recently been honoured with the World Travel Awards, dubbed "Oscar of the world travel industry", for the category of "Việt Nam's most attractive destination" and "world's leading cultural tourism attraction 2019". — VNS