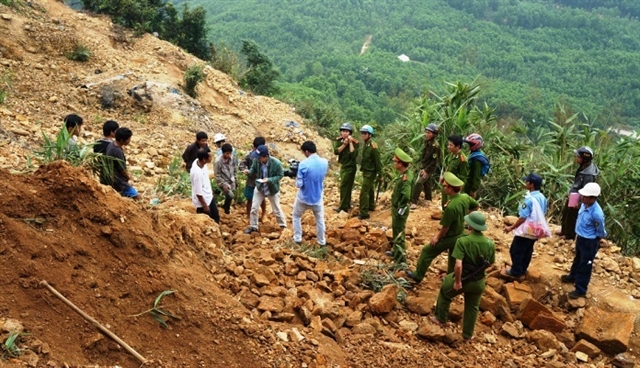 Police inspect the Bồng Miêu gold mine. — Photo vietnamnet.vn
QUẢNG NAM — The central province of Quảng Nam will allocate VNĐ12.6 billion (US$547,800) from the provincial budget to close the Bồng Miêu gold mine.
The information was announced last week in a meeting of the provincial people's council.
As much as VNĐ6.5 billion ($282,600) more will be taken from the mine's fund for environmental restoration.
To close the mine, which is in Tam Lãnh Commune, Phú Ninh District, different work should be done including levelling the area to plant trees and grass, purifying six water holes and setting up signs around the area.
The entrance to the mine will be covered with a metre of concrete.
The fund will also be used to upgrade the Bồng Miêu Gold Company's offices.
On November 28 last year, the Quảng Nam People's Court opened a conference between the Bồng Miêu Company and its creditors. The creditors voted to declare that the company go bankrupt.
Financial reports said that the company has more than VNĐ302 billion ($13 million) whereas it owned more than VNĐ1trillion ($43 million). — VNS