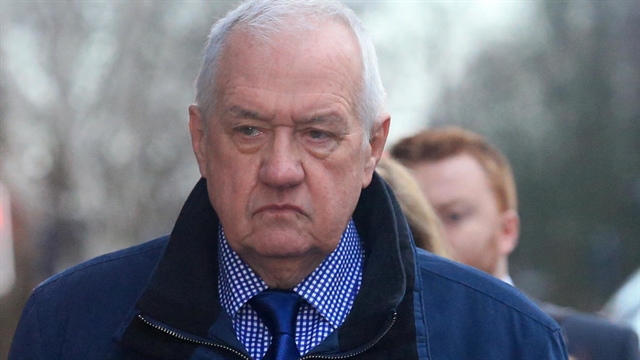 ACQUITTED: David Duckenfield, the match commander in charge of policing the Hillsborough semi-final in 1989, was cleared last week. AFP Photo.
Paul Kennedy
Everyone makes mistakes. Nobody is perfect.
In everyday life, every minute of the day, mistakes are made. When those mistakes are made in the workplace, people need to be held accountable.
When a journalist makes a mistake, in the grand scheme of things, it is often more embarrassing than costly.
Words spelled wrong, the odd typo here and there, and photographs missing or incorrectly placed. All part and parcel of life on a newspaper.
Make a mistake once, expect a slap on the wrist, twice, then chances are you'll be hauled into the editor's office for a serious tongue lashing. Third time? Well in most places, you'll be told to clear your desk and shown the door.
Thankfully, journalism is hardly a life and death profession.
Doctors on the other hand, nurses too, and paramedics, firefighters and police officers run a far greater risk every time they make mistakes. Lives can be lost.
Those who have chosen a profession serving the public do a remarkable job, and often put their lives on the line each and every time they go to work.
That said, if they make mistakes, then they must be held accountable. Or at least 99.999 per cent of the time.
On April 15th 1989, a very senior police officer with South Yorkshire Police in the United Kingdom made a catalogue of errors that have been proven to have cost the lives of 96 Liverpool supporters. 97 if you count the poor fan who, 22 years after the disaster, took his own life, racked with guilt after passing on his ticket to a supporter killed in the crush.
Last week, the match commander on the day, David Duckenfield, was found not guilty of gross negligence manslaughter charges pertaining to his role in the disaster 30 years ago.
Not only did he make the most costly of errors that directly resulted in the deaths of supporters, but he then desperately tried to cover his tracks by blaming other people.
None of the above is in contention.
At the 2015 inquests into the disaster, he told a court it was his own professional failings that led to the deaths. And when pushed about what motivated him to blame others he simply said he had "no idea".
So while it may be a massive shock to see him walk free from criminal charges after admitting he was to blame, it was probably the verdict expected by Liverpool supporters closely connected to the tragedy.
Those fans have been kicked in the teeth so many times denture companies in Liverpool will have done a roaring trade.
Duckenfield should have been convicted, he probably expected to have been convicted, and at the age of 72, would have no doubt spent what little time he has left on the earth behind bars.
His sentence though, in my mind, would have been irrelevant. What matters here is accountability.
No one, it seems, is to blame for the single most horrific disaster football has ever witnessed.
Margaret Aspinall, whose 18-year-old son James died at Hillsborough, is also chairman of the Hillsborough Family Support Group.
She said after the verdict last week: "The question I'd like to ask all of you and people within the system is who put 96 people in their graves, who is accountable?"
And that's where the problem lies. Nobody has been made accountable for causing the deaths of so many people.
This is despite the fact that the man in charge of policing Hillsborough, who at the time was extremely inexperienced covering such large events, and had only been promoted to the rank of Chief Superintendent 19 days before the match, admitted in a court of law he was to blame.
Justice when most deserved, is often very difficult to come by. VNS