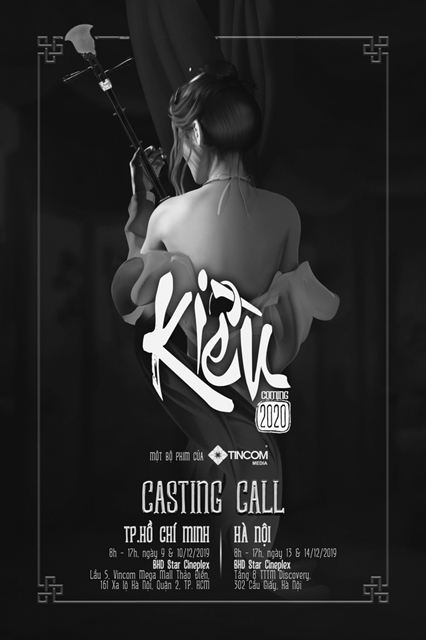 The poster for Kiều, a new film from producer Mai Thu Huyền, based on the famous Vietnamese epic poem The Tale of Kieu, from the 18th century. — Photo courtesy of producer
HCM CITY — Female film producer Mai Thu Huyền has launched her new film project based on a famous Vietnamese epic poem written in the 18th century recognised as one of the country's top literary works.
The film Kiều is based on Truyện Kiều (The Tale of Kiều) by Nguyễn Du (1766-1820).
It recounts the life and trials of Thúy Kiều, a talented young woman who is forced to sacrifice herself to save her family.
Kiều sells herself into a loveless marriage in exchange for her father and younger brother's freedom from prison. Later Kiều's husband forces her into prostitution.
According to the film's producer Huyền, Kiều will not be pitied as the character in the poem is. She overcomes challenges and fate, and transmits the spirit of Vietnamese women, she said at the launch in HCM City.
"I wanted to make Kiều more contemporary rather than dating back 300 years. Her inner beauty and strength should win over audiences' hearts," said Huyền, who began her career as a TV actress and has more than 15 years in the industry.
Huyền spent more than 10 years preparing for her film.
To guarantee her film's success, Huyền invited Meritorious Artist Phi Tiến Sơn and Trần Bửu Lộc, both talented film directors of HCM City, to join filming. She also used fashion designer Thủy Nguyễn to create costumes for Kiều.
The filming will start next month.
Kiều will be in cinemas next year to celebrate 100 years of the death of Nguyễn Du.
Epic poetry
Truyện Kiều is a 3,254-line verse novel written in lục bát, (the sin-eight-word distich metre), a traditional verse form of Vietnamese poetry.
It is used in textbook for secondary schools.
One of the most popular versions is under the title The Tale of Thúy Kiều and has been revised by Bùi Ký and Trần Trọng Kim, two of the country's most notable scholars of the 20th century.
The book was reprinted by Nhã Nam Publishing House of HCM City. It contains 11 images drawn by famous Vietnamese master painters such as Tô Ngọc Vân, Trần Văn Cẩn and Nguyễn Gia Trí.
It has been translated into 20 different languages, including French, Chinese, English, Russian and Japanese.
Nguyễn Du, also known as Tố Như, was recognised by UNESCO as a World Cultural Figure, among 108 others, in 2003. — VNS