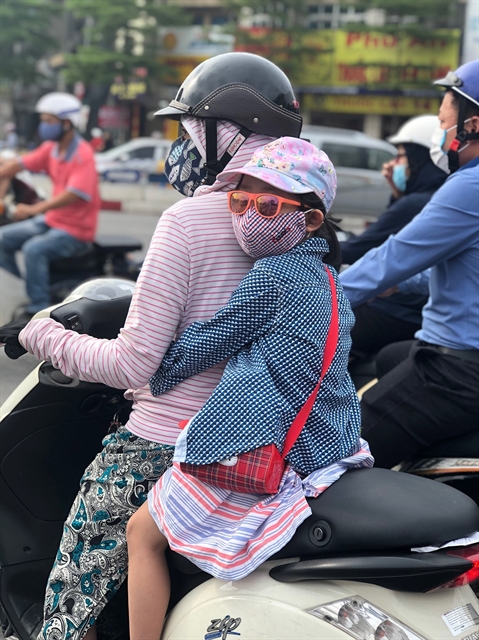 A child girl is all covered up to protect herself on Hà Nội's bad air quality day. Air pollution and climate change severely affect children's development in the Asia-Pacific region, experts warned yesterday. — VNA/VNS Photo Huy Hùng
HÀ NỘI — Children in Asia-Pacific have suffered a great deal due to air pollution and extreme weather events, experts have said.
Delegates attending the Asia-Pacific Conference on Early Childhood Development on Wednesday in HÀ Nội made the grim warning, adding that declining air quality in the region's cities impacts children's health, growth, reduces fertility rates and leads to climate-induced migration.
The event, hosted by Việt Nam Ministry of Labour, Invalids and Social Affairs (MOLISA) and Asia-Pacific Regional Network for Early Childhood, gathered some 500 experts from 35 countries and territories along with 44 non-governmental organisations to discuss challenges facing children as well as solutions to tackle issues.
Karin Hulshof, Regional Director UNICEF East Asia and Pacific, highlighted the devastating link between the effects of climate change, environmental degradation and the development of children.
World Health Organisation has reported that 7 million children die of air pollution-related diseases per year and nine out of 10 breathe air not fit for human consumption.
The poor environmental conditions damage children's health and obstruct their cognitive development.
"The extreme climate events and environmental challenges are not distributed evenly. They adversely affect the youngest and most vulnerable populations," she said.
"In other words, those who have the least are hit the hardest."
The regional UNICEF leader cited the Lancet Countdown 2019 report published in mid-November which stressed "a child born today will experience a world that is more than four degrees warmer than the pre-industrial average, with climate change impacting human health from infancy and adolescence to adulthood and old age".
Despite being born in some of the most thriving and dynamic economies of the world, children in Asia-Pacific region have to tolerate environmental burdens restraining them from growing up safely and healthily, Hulshof added.
ARNEC Board Chair Sheldon Shaeffer said risks emerging from climate change made children more vulnerable to poverty, toxic stress, insecurity and mortality.
"Besides fixing existing problems, we have to take children into consideration in the process of urban planning and policymaking to make sure we will do the right thing in the future," he said.
The loss of livelihoods due to climate change and rapid urbanisation also lead to young adults leaving their children behind to seek economic opportunities in cities.
"While this transition often offers families better access to health and education amenities, so too can it pose new risks and challenges – especially when it requires governments to respond to the rapid increase in demand for basic services," said Hulshof.
Vietnamese Deputy Prime Minister Vũ Đức Đam stressed the need for systematic solutions which involve governments, academia and advocates to raise awareness and solve challenges facing children.
"Besides, young parents need to be better prepared in terms of health, knowledge and skills to give birth to, protect and bring up healthy children in response to rapid changes of environment and society," he said.
The Asia-Pacific Conference on Early Childhood Development is expected to release the Hà Nội Call to Action by the end of this week which will touch upon environmental threats impacting children and urge all sectors to promote safe, nurturing and sustainable environments for every child. — VNS