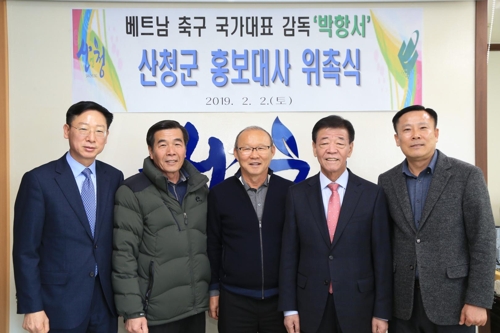 This file photo provided by Sancheong County shows Park Hang-seo (central), South Korean head coach of Vietnam's national and U-23 men's football teams, posing with county officials in February 2019 after being nominated as the county's honorary ambassador. — YONHAP/VNA Photo
SANCHEONG, South Korea — Sancheong County in southeastern South Korea, which has gained fame as the hometown of Park Hang-seo, the popular South Korean head coach of Việt Nam's national football team, will push to build a Vietnam-friendly village to attract more tourists from the Southeast Asian country, officials said on Saturday.
The South Gyeongsang Province county, about 360 kilometres southeast of Seoul, said it has mapped out a basic plan this year to create a Vietnamese village in the Saengcho-myeon district, where Park was born.
Park, 60, has become a hero in both South Korea and Việt Nam after achieving sensational successes as the head coach of national and under-23 men's football teams in Việt Nam since taking over in October 2017. His feats include a run to the semifinals at the 2018 Asian Games and the 2018 Suzuki Cup title. Park recently renewed his contracts in Việt Nam.
During a visit to his hometown early this year, Park agreed to serve as an honorary ambassador for Sancheong County.
According to county officials, the basic plan for the Vietnamese village calls for establishing a football-themed exhibition and cafe in the vicinity of Park's birth house in Saengcho-myeon.
In addition, a street featuring Vietnamese restaurants will be built within the Việt Nam-friendly village, while mural paintings of Park as a young football player and Việt Nam's tourist attractions will be displayed.
The county plans to develop a new tourist route by linking the envisioned Vietnamese village with its existing attractions, such as Saengcho International Sculpture Park and Sancheong Museum. The county said it will spend about 4 billion won (US$3.39 million) on the Vietnamese village project and construction is scheduled to begin in 2021.
County officials expect that the new Vietnamese village will help stimulate Korea-bound travel by Vietnamese people.
"We have concluded that a new tourism resource will be needed to lead Vietnamese tourists to visit Sancheong. The Vietnamese village is also expected to provide a good sight for domestic tourists as well," said a county official.
As Vietnamese interest in South Korea has mounted due to Park's impressive performances, more than 20 Vietnamese tourist groups visited Sancheong from April to November this year. — YONHAP