HÀ NỘI — Three-wheeled vehicles may soon be banned in Hà Nội. The Hà Nội People's Committee announced in a recent statement that the new rule would increase road safety and support efforts to improve air quality in the capital.
Cyclos, three-wheeled bicycle taxis, are among the vehicles that would be affected by the law. Many cyclo drivers have expressed doubts about the ban.
"If they told us to stop, we would have a hard time finding another job," said driver Phạm Duy Kiêm. "[And] it will affect Việt Nam's tourism industry."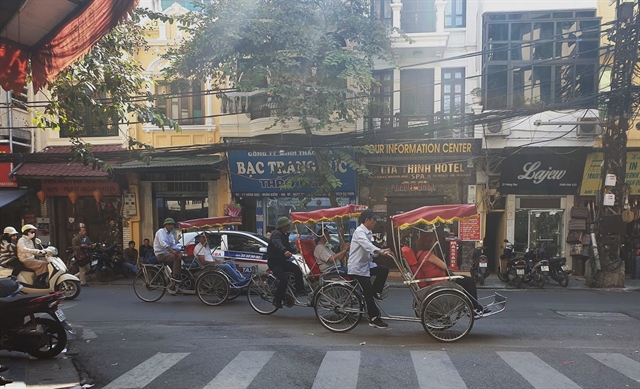 Cyclos seen in the Old Quarters. The three-wheeled vehicles are still a popular mode of transport for tourists. VNS Photo Ngọc Trâm
Bùi Quang Tuất, who has been driving cyclos for almost 30 years, is similarly concerned.
"Of course, it affects our lives," Tuất said, "because we only have a little farmland back home, and we can only farm in certain seasons, so if we don't have side earnings, then we can't survive."
Many three-wheelers are unregistered and do not comply with safety standards. City officials publicised a plan to remove the unlicensed vehicles from the road in June 2018. However, it was never enforced.
In spite of officials' unease, cyclos are still a popular mode of transport among tourists, many of whom see no problem with letting bicycle taxis and other three-wheelers remain on the road.
"I didn't really know that they were considered unsafe," says Dalton McNaught, a backpacker from Canada. "I've ridden a few, and it's been fine… so it's interesting to see that they might be banned."
If enforced, the ban would be a part of the People's Committee's push to amend local transportation regulations. — VNS