By Hà Nguyễn & Hoàng Hồ
Trà Vinh is famous far and wide for a specialty locally known as bún nước lèo (noodle soup with sauce made from different fish) which was invented by the Khmer ethnic group.
A Khmer woman named Khan Châu in Trà Vinh's Châu Thành District said her family had been selling the dish for three generations.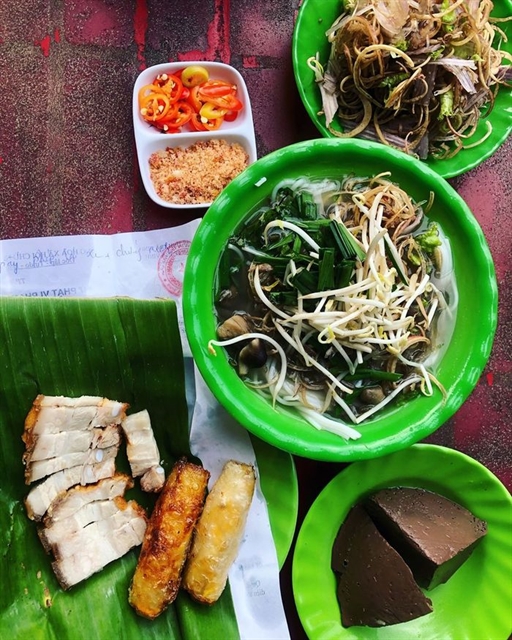 A bowl of tasty and delicious bún nước lèo Trà Vinh has lured hungry diners. — Photo dulichhoanmy.vn
The most important part of the dish is mắm pro-hốk (fermented fish sauce), Châu said, noting that the Khmer group living along the Mekong Delta tapped the abundant fish resources in the rivers and fields to make the mắm, which some first-timers find particularly pungent but is very popular among local people
The fish used include mudskipper, snakehead, anabas and silvery conger, which are soaked overnight in water before salt and raw rice are added to a ceramic pot which is covered tightly and stored for 2-3 months, said Châu.
This kind of mắm is used to cook nước lèo (broth). To do this the mắm is cooked over a low fire until it starts boil. The cooks remove all the bones and residue from the bottom of the pot and add citronella and chili to eliminate the fishy smell and spice the broth, she said.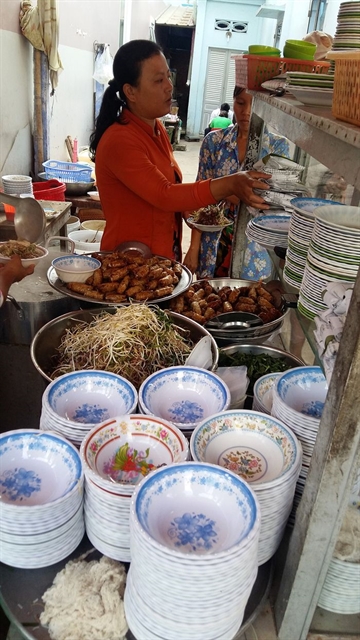 Kicker: One of the best bún nước lèo shops in Trà Vinh Province. The shop serves a lot of customers a day. — Photo phunuonline.com.vn
To make the broth even tastier ngải bún, which is a type of ginger but with its own fragrant and special flavour, is used, plus ground mudskippers caught from brackish water and boiled snakehead which has been marinated with galangal, garlic and seasoning for an hour.
This mix makes the broth more fragrant.
Châu said bún (noodles) should be made from fragrant rice harvested in the delta's autumn season. The rice should be soaked overnight before being ground up to make the skinny noodles.
Ingredients to be eaten with the dish include fresh mùng bean sprouts, banana flowers, coriander and fragrant shallots.
Châu said there is also a correct way to enjoy the dish. In the past, people never squeezed lemon over their noodles, and instead used chili vinegar made from coconut juice and a ripen banana to create a sourness that is very difficult to describe.
She said her family never uses fish sauce and instead adds fresh salt with the chili for diners who like their food salty.
"Most Khmer housewives know how to make the dish. Every family has a ceramic pot of mắm pro-hốk used as a dip for other dishes such as boiled pork," Châu said.
Phùng Văn Thể, an accountant from Hà Nội, said when he visits Trà Vinh he often stops at Chau's shop to enjoy the dish.
"While I'm enjoying the dish, I feel like I'm sampling art. It is a mix of feelings right from the first bite from the soft fragrant noodle, fresh green chilis and the sweet and tasty broth that I enjoy spoon by spoon," said Thể.
He said Châu's shop still uses the traditional method to cook the dish, but many others these days top it off with roast pork or boiled pig's blood.
Either way, the special recipes they use have made the dish almost immortal and widely popular, Thể said.
"I agree with people who say that bún nước lèo Trà Vinh is a dish full of passion with a sublime taste," he said, noting that Châu's version has a unique flavour in Trà Vinh.
Herbalist Nguyễn Văn Thuyết from the Hà Nội Traditional Medicine Centre said a bowl of bún nước lèo Trà Vinh provides 400-500 calories "It is very good for the cardiovascular system because it helps reduce cholesterol." — VNS