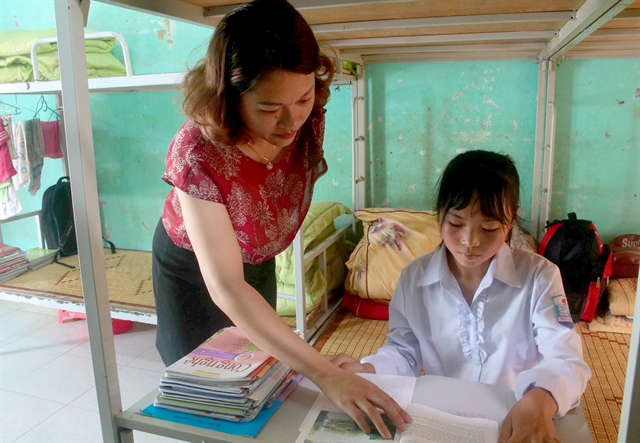 A student receives help in studying from a teacher of Kim Cúc Secondary School, which is applied boarding school model, in Cao Bằng Province. — VNA/VNS Photo Chu Hiệu
CAO BẰNG — School has become a second home for many ethnic minorities students in the mountainous districts of Cao Bằng Province in recent years.
The boarding school model, which provides meals and dorm for students, has helped reduce the number of students who drop out of school.
Nguyễn Hải Yến, principal of Kim Cúc Secondary School in Bảo Lạc District, said the model made it easier for teaching and studying.
In 2019-20, the school has 183 students, of which 98 per cent stay at the school.
Yến said most of them were ethnic minorities and lived tens of kilometres from the school.
For nearly three years, a small room at Kim Cúc Secondary School has been a second home for Hà Minh Hạnh, an eighth grade student.
Hạnh said before she lived in Phiêng Tác Village, and had to walk more than 9km along a narrow mountainous road to get to class.
Thanks to the boarding school, it's more convenient.
"After a day at school, I no longer have to worry about getting home. I just go home at the weekends," Hạnh said.
"Teachers also help us concentrate on our studies and improve our social skills."
Teachers also act as their students carers.
Bế Thị Lan, a literature teacher, said after class, she helps staff in the kitchen prepare lunch for 179 students.
All the teachers here act like parents for the students, said Lan.
In order to manage and care for boarding students, teachers are divided into groups to perform their duties in shifts.
Students' meals and food safety are also closely monitored every day, according the school principal.
Assessing the effectiveness of the boarding school model, Nông Thị Loan, head of the Education and Training Department in Bảo Lạc District, said the biggest change from the boarding school model was less students were absent from class.
Bảo Lạc district has nearly 14,000 pupils, of whom 80 per cent board.
The model encourages students to study and achieve good grades.
In the 2018-19 academic year, the percentage of pupils dropping out of Bảo Lạc District's primary schools accounted for 0.1 per cent, while it was 0.4 per cent in secondary schools.
This model is also applied in remote districts of Nguyên Bình, Thông Nông and Bảo Lâm…
Vũ Văn May, head of Education and Training Department of Nguyên Bình District, said, there were over 100 rooms for boarding students. After many years of implementing this model, the educational results of the schools in the district have changed significantly.
The attendance rate in Nguyên Bình District was from 95 to 97 per cent and teachers did not have to go to each family to encourage students go to school.
The model has also helped many families to get rid of the backward view that female students do not need to study much and should stay at home to get married at 13 and 14 years old.
Over 80 per cent of female students in Nguyên Bình District completed grade 9 this year and the rate of female students attending upper secondary school also increased, said May.
Vũ Văn Dương, director of the provincial Education and Training Department, said it was the right policy and had received from local ethnic minorities.
This model has contributed to reducing the number of students dropping out of school and was also the foundation for schools to constantly improve the quality of comprehensive education and develop in a stable and sustainable manner.
However, in many boarding schools, infrastructure did not meet the needs of students, he said.
The education sector plans to call for supports from all levels to help pupils and schools in disadvantaged areas.
Teaching skills and after-school activities at boarding schools in remote areas would be improved to increase the quality of education, according to Dương. — VNS