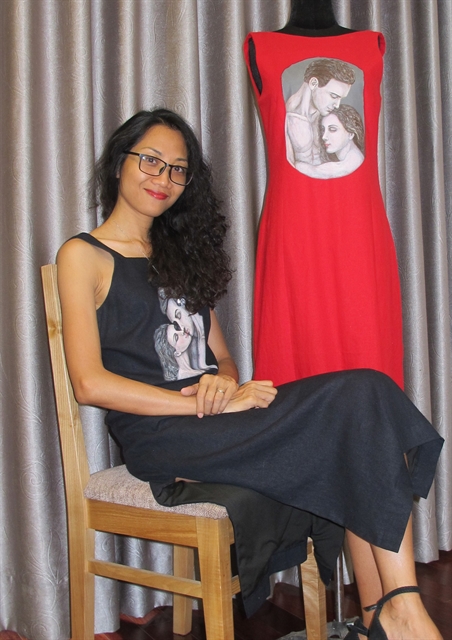 Artist Dương Thu Phương and one of her collection of linen dresses. — Photo courtesy of the artist
HÀ NỘI — A collection of 20 linen dresses painted with an image of a kissing couple is on display in Hà Nội by Austrian-Vietnamese painter Dương Thu Phương.
Though the exhibition is about fashion, she is showcasing 20 mannequins wearing the dresses, helping visitors contemplate the works from all angles, Phương said.
"I still design my own clothes but this is the first time I have experienced designing linen dresses with my pictures painted on," said Phương.
"The front of the dresses is simple to make it a frame for the paintings, while the rear is designed with cut-out and decorative details," said Phương.
"I use fabric colours and linen, the natural materials that are good and convenient for wearers."
Phương said she drew inspiration from romantic love which is presented through kisses.
"While working, I often listen to Hãy Yêu Nhau Đi (Let's Love Each Other) by Trịnh Công Sơn. It says 'Let's love each other though the forest changes leaves/ Let's love each other even though the time has drifted away/ Let's lull each other on the tender words/ Let's love each other, then the rock gets cheerfulness also'," she said.
"The dresses and paintings in the collection will be filled with your love and passion for life."
Painter Nguyễn Đỗ Bảo, former president of Hà Nội Fine Arts Association, remarked that as Phương lives in Austria, her paintings are clearly influenced by Western art.
"We can see Western art and the spirit and grace of an Eastern woman combined in these artworks, they bring positivity for audiences and users," he said.
Phương was born in 1980. She started handicrafts at the age of seven as she worked with her mother, an embroiderer. When she was a little girl, she showed interest in painting. However, she decided to pursue maths and economy. Since 2016, she gave up her career as an IT engineer to devote herself to art.
A painting in the collection Kusskiss. — Photo courtesy of the artist
The exhibition of paintings and dresses will run until December 2 at Cá Chép Gallery, 115 Nguyễn Thái Học Street, Hà Nội. — VNS