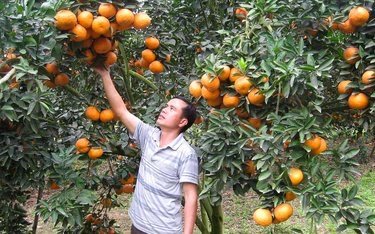 A farmer checks his orange crop in Hà Giang Province. The local orange will be sold during a promotional week in Hà Nôi in the middle of December. — Photo tapchcongthuong
HÀ GIANG — Lovers of oranges rejoice! An entire week dedicated to the delicious cam sành (King Orange) fruit is being planned.
The seven day orange bonanza will begin on December 20 featuring fruit from from the northern Hà Giang Province.
The event has been organised by the Hà Nội Promotion Agency (HPA), Hà Nội's Department of Industry and Trade and Hoàn Kiếm District.
According to the organiser, there will be about 20 stalls, including oranges and other products from Hà Giang's One Commune-One Product (OCOP)
The event will be held at Nhà Bát Giác (Octagon House) located behind the bronze statue of King Lý Thái Tổ, facing the Hoàn Kiếm Lake.
Organisers say this is a perfect opportunity to introduce the delights of the north to residents and tourists in Hà Nội,
Hà Giang king orange is famous for its sweet and juicy taste. It is also a bit bigger than other types of oranges in Việt Nam.
In recent years, Hà Giang Province has increased the orange plantation areas. In the 2016-2018 period, it added another 180ha each year, producing 12,000 tonnes every 12 months.
This year, the province is expected to harvest more than 50,000 tonnes of king oranges. — VNS