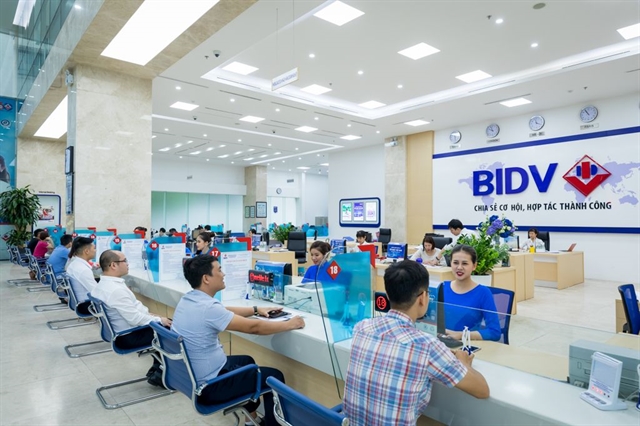 A Joint Stock Commercial Bank for Investment and Development of Vietnam (BIDV; HoSE: BID) office. – Photo bidv.com.vn
HÀ NỘI – Việt Nam's benchmark VN-Index fell for a second day as investors continued to take profits from the market's recent rally, sending large-caps lower.
The VN-Index on the Hồ Chí Minh Stock Exchange inched down 0.15 per cent to close Friday at 1,022.49 points.
The benchmark index also fell 0.09 per cent on Thursday.
The VN-Index gained 0.68 per cent during the week.
More than 181.3 million shares were traded on the southern bourse, worth VNĐ4.15 trillion (US$178.4 million).
The trading figures were slightly down from Thursday.
The benchmark continued struggling on Friday as large-cap stocks posted further losses under strong selling pressure, Thành Công Securities Co (TCSC) said in its daily report.
The large-cap VN30-Index moved up 0.05 per cent to 944.70 points but declining stocks in the basket outnumbered gainers by 13 to 11, while six stocks ended flat.
Among the worst performers were property firms Vincom Retail (VRE) and Vinhomes (VHM), Bank for Investment and Development of Vietnam (BID), insurer Bao Viet (BVH) and port operator Gemadept (GMD).
Investors ran away from large-cap stocks but seemed hesitant to turn to mid-cap and small-caps.
On the Hồ Chí Minh Stock Exchange, the mid-cap index slid 0.08 per cent while the small-cap market was up 0.05 per cent.
In terms of sectors, insurance, real estate, retail, mining and petroleum, and logistics and transportation were the key stocks to fall.
According to TCSC, the struggle and slightly-decreased liquidity was necessary after the VN-Index had made several strong gains.
The VN-Index needed to find its balance point and consolidate before making further gains towards new highs.
Large-cap stocks, especially banks, would remain worth watching and may be the driving factor for the market as investors focused on this group for positive full-year earnings reports, TCSC said.
The VN-Index may continue to hover around the 1,025 point mark, TCSC forecast, adding the benchmark would head up to 1,045 points.
On the Hà Nội Stock Exchange, the HNX-Index rose 0.37 per cent to end at 107.27 points.
Since last Friday, the HNX-Index has rallied nearly 2 per cent.
More than 33.4 million shares were traded on the northern bourse, worth VNĐ350 billion. – VNS