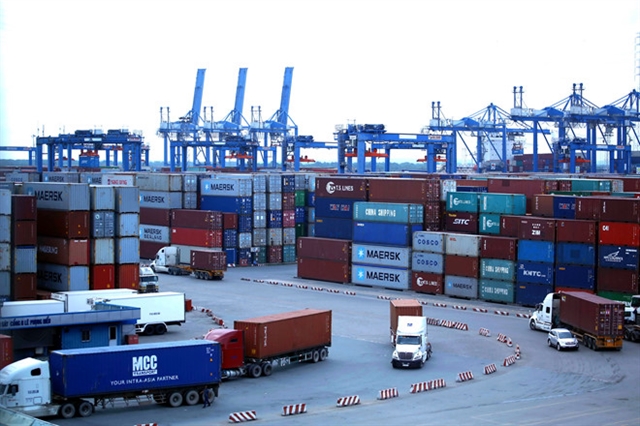 The industrial production and logistics sectors in Vietnam have great potential field, according to experts. Photo from thanhnien.vn
HCM CITY – Việt Nam is an attractive market for investment, Dr Võ Trí Thành, former deputy director of Central Economic Management and Research Institute told a conference in HCM City on Tuesday.
According to the US News and World Report, Việt Nam has risen 15 places this year to eighth in the list of the world's best countries to invest.
In Asia, it ranks fourth behind Saudi Arabia, India and Qatar.
Thành said Việt Nam enjoys advantages like being located in a dynamic and cohesive area of global visible commerce, a young population, competitive labour costs, having a cogent investment strategy, and commitment to stability, reform and integration.
But it also has some disadvantages, such as lack of consistency, quality human resources, infrastructure and competitive salaries, he said.
He forecast a good future for manufacturing, services, logistics, the digital economy, infrastructure, and real estate.
Michael Paul Rio, chief operations officer of Indochina Capital Corporation, said hospitality, high-end housing, manufacturing, and logistics market are promising sectors in the Vietnamese economy.
The growth of domestic and international tourism and low-cost carriers, airport expansion, and highway development are creating opportunities for investors in the hospitality sector, he said.
The number of domestic and international tourists has been growing at annual rates of 20 per cent and 18 per cent in the last five years, he said.
The capacity of the country's airports has been increasing at 20 per cent.
Since 2015 three new terminals have been built while numerous airports have been expanded, he said.
New highways have helped increase the number of domestic tourists travelling by road by 60 per cent, he said.
Apartment prices in Việt Nam remain regionally competitive and attractive to foreign investors, he said.
The rates per square metre in HCM City and Hà Nội are US$3,800 and $3,200 compared to $4,500 and $25,600 in Bangkok and Singapore, he said.
He said logistics sector growth, FDI inflows, infrastructure development, and retail sales are key factors in attracting investors to the industrial and logistics sectors.
"Vietnamese Economy 2020-2030: Recession or Resurgence" was attended by more than 300 company CEOs and leading experts in various sectors. – VNS