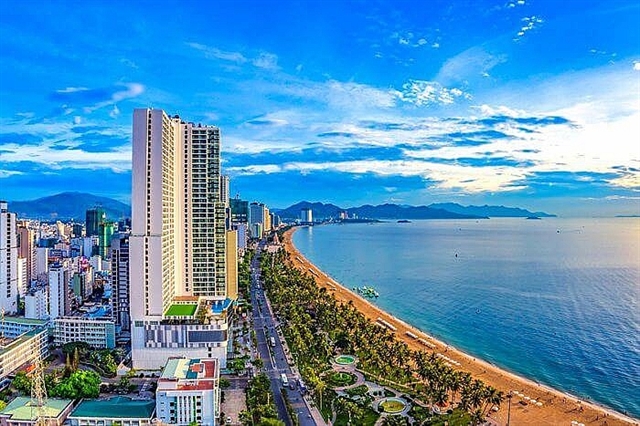 A view of Nha Trang Beach in Khánh Hòa Province. Tourism and economic growth help boost the hotel transaction market in Việt Nam in 2019. — Photo baoquocte.vn.

HÀ NỘI — Việt Nam's growing tourism industry and thriving economy have drawn interest in the country's hotel and resort market from investors across the region, making Việt Nam one of the most talked about markets in Asia Pacific.
According to Jones Lang Lasalle Property (JLL), the industrial renaissance has driven corporate demand for hotels across the country, while visa exemptions, new direct air routes and improved marketing have boosted the country's appeal to leisure travellers.
Like much of Southeast Asia, leisure demand has been driven by mainland Chinese tourists which hit a record last year in terms of arrivals growth.
Last year, Việt Nam received 15.5 million international tourists, up 19.9 percent over 2017, according to the Vietnam National Administration of Tourism (VNAT).
The number of international visitors to Việt Nam this October hit 14.5 million, 13 per cent higher than the same month last year.
As the three biggest economic and tourism hubs, HCM City, Hà Nội and Đà Nẵng, see the tourist growth during the year and they also report the construction of more hotel rooms to serve demand.
By September, HCM City's tourist arrivals grew 14.3 per cent compared to the same time last year. This year, the city has recorded 1,114 new hotel rooms, lifting overall supply to 20,200. By the end of 2021, its supply is forecast to hit 22,000 rooms, 55.4 per cent of which will be in the upscale segment.
Tourist arrival growth in Hà Nội was 9.5 per cent up to September. In the fourth quarter this year, 1,008 rooms will be added to the capital city's hotel landscape, increasing total supply to 18,699 rooms, with approximately 97 per cent of the new supply in the midscale and upscale segments.
By the end of 2021, Hà Nội will have more than 20,400 rooms with approximately 59.8 per cent in the upscale segment.
With tourist growth of 26.1 per cent by this July, during 2019-21 Đà Nẵng expects to add 9,479 rooms to current supply, of which 81.8 per cent are projected to be in the upscale and midscale segments.
More investment in hotels, different investor tastes
Thanks to tourism and economic growth, the hotel transaction market in Việt Nam has had a busy year.
According to realty experts, in Việt Nam foreign investors are seeking investment opportunities with higher returns in operating hotel assets with in-place cash flow, while most domestic investors want to develop hotels and resorts from vacant land banks.
Some outstanding transactions in the market this year include Hồ Tràm Grand Strip resort's sale sold to Warburg Pincus investment fund, while Berjaya Group transferred 75 per cent of TPC Nghi Tàm Village's shares to the Hanoi Hotel Tourism Development Co., Ltd.
TPC Nghi Tàm Village owns the Intercontinental Hotel in Hà Nội with a value of more than $53.4 million.
On November 7, IHG (InterContinental Hotels Group) signed agreements with Hồ Tràm Project Company Limited (HTP) to rebrand The Grand Hồ Tràm at the Hồ Tràm Strip integrated resort to InterContinental Grand Hồ Tràm within a year.
Serena Lim, Vice President, Development for IHG South East Asia & Korea, commented: "As international and domestic travel continues to grow, the expansion of the property and facilities puts us in a great position to provide different experiences for a diverse group of guests."
JLL has also consulted a 5-star hotel transaction in Nha Trang City, Khánh Hòa Province recently.
Võ Quốc Phương Trang, Vice President, JLL Hotels & Hospitality Asia Pacific told Việt Nam News: "In Việt Nam, realistically, selling price is more expensive than this given the amount of capital there is to be allocated to the market, especially from those still able to achieve cheap corporate debt from 2 per cent to 4 per cent in countries such as Japan, Korea, Hong Kong and Singapore.
"In the current market situation, the yield recorded in successful transactions could be compressed to 7-8 per cent dependent on the asset types and investment strategy.
"It is notable that the 8 per cent is lower than the loan in Việt Nam though and hence why most local groups focused on development where returns may be higher."
JLL said while Hà Nội and HCM City are expected to remain as the top two cities on the radar, coastal cities Đà Nẵng and Nha Trang are the two next hot spots set to attract investors. — VNS