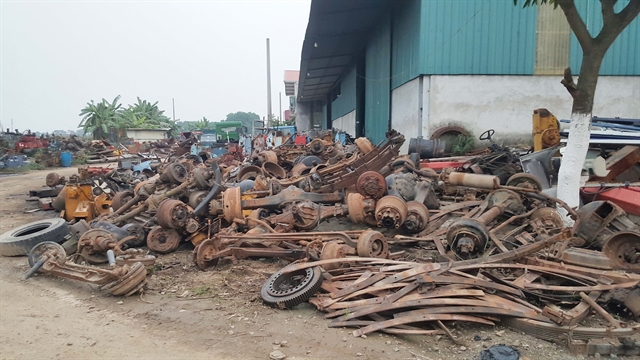 Scrap is piled up along local roads in Tề Lỗ Village, Vĩnh Phúc Province. — VNA/VNS Photo Nguyễn Trọng Lịch
VĨNH PHÚC The rapid development of waste recycling in recent years has seriously affected the lives of people in Vĩnh Phúc Province.
A small area in Tề Lỗ, a village in Yên Lạc District, gathers tens of thousands of old cars, excavators, bulldozers, and cranes which are waiting to be dismantled and classified for reuse, vietnamplus.vn reported.
Good spare parts will be reused by selling them to car repair shops.
After a few weeks or months of dismantling, the paint, rubber gaskets, tires, plastics and machinery lubricants from the vehicles is discharged into the environment.
All of this non-recyclable waste is burned or thrown away to the local environment by residents, polluting vacant areas, canals, ponds and lakes.
The waste also contributes to water, air and land pollution.
T, a car dismantling worker in Tề Lỗ Commune, said tonnes of wastes from all kinds of machines and motors were discharged into the environment every day.
These products were only partially collected and most were carried to fields and canals along villages and hamlets to destroy by burning, he said.
The burning has caused air pollution and an unpleasant odour from rubber and plastic.
Many people are upset about the burning of waste but do not speak out because they do not want to harm their relationships with relatives and neighbours.
In addition to dismantling cars and motor vehicles, Yên Lạc district also hosts villages that purchase scrap and recycle plastic, causing environment pollution.
For a long time, collecting and recycling plastic scrap in Đông Mẫu Village, Yên Đồng Commune has been the main source of income and job creation.
However, environmental pollution is a concern for residents.
Đông Mẫu is always busy with people coming and going to trade and transport scrap as well as the big noise from plastic grinding machines, day and night.
Most of the plastic scrap in this village is purchased from scrap dealers to manufacture products from recycled plastic.
The recycled products are mostly exported to China and some provinces such as Bắc Ninh and Hưng Yên.
There are 400 households with 2,000 people in Đông Mẫu Village, of which more than 200 households work in trading, manufacturing and recycling plastic scrap.
The development of plastic recycling has greatly affected the environment.
Sewer systems are overloaded because of the daily waste water from plastic recycling, while ponds, lakes and canals are full of black wastewater.
Scrap is piled up everywhere and roads have become yards to gather scrap.
A lack of management and planning from local authorities for the rapid development of such villages has caused illegal public land encroachment by businesses.
According to Yên Lạc District People's Committee, by August, there were 253 cases of land encroachment with a total area of ​​more than 32,400sq.m, 649 cases of misuse of public land and other land-use violations.
The main reason leading to the situation is a lack of respect and compliance for the law by some people, organisations and enterprises, according to Nguyễn Kim Sơn, chairman of the People's Committee of Tề Lỗ Commune.
Meanwhile some localities have not strictly dealt with violations early, causing difficulties in recovering land.
Many households and businesses have built workshops or solid constructions on encroached land, typically in localities with such villages.
Tề Lỗ Commune alone has 95 cases of people violating the Land Law with an area of ​​tens of thousands of square metres, the committee said.
"There are 540 households trading excavators and bulldozers, of which more than 300 families have been approved (in plan) to settle in an industrial zone," said Sơn.
"The remaining households also need to expand production and are struggling to find a place to gather goods."
To minimise environmental pollution from waste, in 2018, the commune put into use two concentrated landfills with a total area of ​​4,400sq.m to replace Đồng Soi landfill which was closed for a road project.
However, it hasn't solved the pollution problem.
Nguyễn Công Võ, chief of Vĩnh Phúc Department of Natural Resources and Environment Department, said the province planned to build two more waste treatment plants and work with localities to set up waste management plans.
The province also requested the Ministry of Natural Resources and Environment promulgate guidelines and management procedures in classifying, storing, gathering, transportation, reuse, recycling and treatment of waste, as well as recovery of energy from solid waste.
The province also needs guidance in improving and rehabilitating the environment of solid waste burial sites as well as technical requirements and management processes related to environmental protection for waste treatment facilities.
The province also plans to establish 16 industrial complex and concentrated villages with total area of ​​344ha to gradually relocate production facilities out of residential areas and issue mechanisms to support businesses in building and installing wastewater treatment systems. VNS