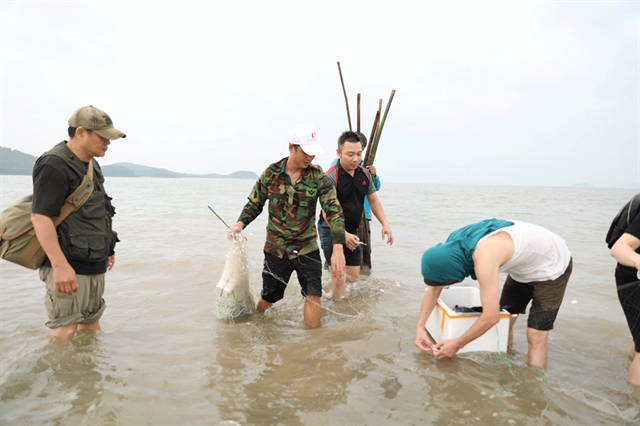 Tourists experience fishing as part of community-based ecotourism in Quảng Ninh Province's Quan Lạn Island. — Photo baoquangninh.com.vn
QUẢNG NINH — The northern province of Quảng Ninh will strive to promote green growth and become a good model for other provinces to follow, said Đặng Huy Hậu, vice chairman of Quảng Ninh People's Committee.
He made the statement at a seminar which was held in Hạ Long City on Friday to review the implementation of a project which has been carried out from November 16, aiming at boosting green growth in the province through the adoption of sustainable environment and ecotourism policies.
Hậu said with support from Japanese experts and Shiga Prefecture, the provincial Department of Planning and Investment (DPI) has successfully improved the financial mechanism of environment protection fund and introduced incentives for energy efficiency.
Community-based ecotourism programmes on Quan Lạn Island and the setting of criteria for the granting of Blue Sail Certificates have also been promoted to encourage boat owners to invest in clean technology.
Environmentally-friendly technologies including bio-toilets and rapid composting have been applied to reduce pollution in the Hạ Long Bay area, he said.
Tetsuji Goto, senior advisor at JICA headquarters, said Quảng Ninh Province should sustain the outcomes of the project and include lessons from its implementation in green growth policies in the future.
"It is very important that the provincial People's Committee will continue their strong leadership to ensure economic development in harmony with the needs of conserving natural resources of Hạ Long Bay – a World Heritage Site, given the recent development of several highways facilitating travel between Quảng Ninh and Hà Nội as well as Hải Phòng, which resulted in an increase in the number of visitors to the province," he said.
The seminar is a part of Japan International Cooperation Agency (JICA)'s technical cooperation project for "Green Growth Promotion in Ha Long Bay".
The project was designed based on lessons learnt and experiences of "Lake Biwa Model" from Shiga Prefecture, which is the largest freshwater lake in Japan.
Hạ Long Bay was recognised as a UNESCO World Heritage Site in 1994 and 2000.
The bay spans 1,553 sq.km and includes 1,969 islands of various sizes. It features thousands of limestone karsts and islets of various shapes and sizes. The limestone in the bay has gone through 500 million years of formation in different conditions and environments. The geo-diversity of the environment has created biodiversity, including a tropical evergreen biosystem, oceanic and sea biosystem.
Around 5.2 million foreigners visited Hạ Long Bay in 2018, up 22 per cent from a year ago, accounting for 30 percent of the 15.6 million foreign tourist arrivals to Việt Nam. — VNS