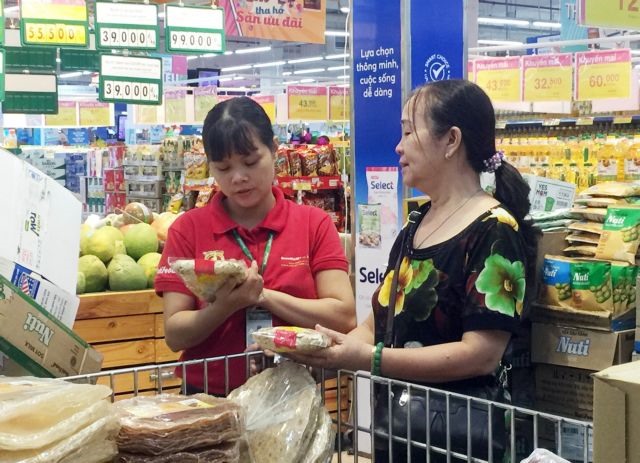 Customers shop at a Co.opmart supermarket in Ninh Thuận Province's Phan Rang-Tháp Chàm City. Without information about nutrition in food products, most people choose things they are familiar with. — VNA/VNS Photo Công Thử
HÀ NỘI — Due to a lack of regulations on nutrition labels, Vietnamese consumers are often in the dark about the true nutritional value of what they're eating, according to experts.
A workshop, organised by the Preventive Medicine Department under the Ministry of Health, in Hà Nội yesterday focused on a need for nutritional labels with detailed information to improve public health in Việt Nam.
Nutritional labels are designed to help people make healthier choices at the supermarket and are on most pre-packaged foods and include information about the product's nutritional value, including its protein, fat, salt and carbohydrate content, said Nguyễn Thị Hồng Diễm, an official of the department.
"Without any or little information about the nutrition on a food product, most people choose the things they are familiar with no matter how bad nutrition they have," she said.
While food with high proportions of fat, sugar and salt should be avoided, Vietnamese people consume a lot of them in their daily life.
"Food with 100 per cent of those ingredients known as cooking oil, instant noodle, sugar and fish sauce are the four top best-selling food items in Viet Nam in Kantar's latest survey of three months ending by September," said Nguyễn Huy Hoàng, Commercial Director at Kantar, Worldpanel Division Vietnam
According to a survey conducted by the department and other partners, most food manufacturers in Việt Nam don't have nutrition labels for their products, except some for export, while most international food enterprises do.
However, even nutrition labels differ from company to company. Some provide detailed information, while others give ingredients only.
For example, despite being one of the worst foods for health, most instant noodle products in Việt Nam don't have detailed nutrition ingredients on the label.
Hoàng from Kantar said noodle enterprises could earn a lot in the local market, but only provided consumers with very general information about a type of food that contains too much salt, trans-fat and carbohydrate content.
As a result, consumers see no harm in eating the products.
Nguyễn Phương Nga, 33, buys a box of 30 instant noodle packages each month. She told Việt Nam News: "My sons love instant noodles more than food I cook. They are cheaper and much easier choices for many meals."
Last year the country consumed 5.2 billion packets of noodles, ranking fifth in instant noodle consumption after China, Indonesia, India and Japan.
To change the situation, Trương Đình Bắc, the department deputy director, urged ministries and agencies to work together to issue regulations for nutrition labels in Viet Nam.
"The consumers have the right to know what they eat so that they can make a good choice for their health," Bắc told the conference — VNS