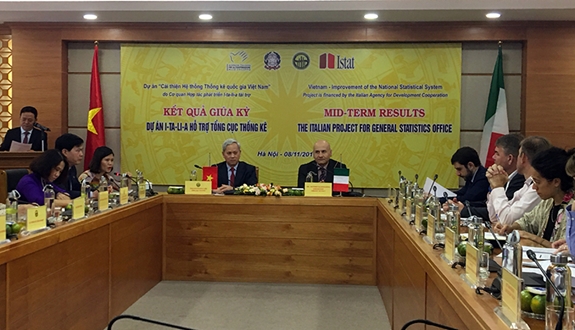 Participants at the meeting to assess the mid-term results of the project: "Việt Nam – Improvement of National Statistical System", funded by the Italian Government. Photo qdnd.vn
HÀ NỘI — Việt Nam and Italy have had success in their work together to improve the national Vietnamese statistic system, an official has said.
Dr Nguyễn Bích Lâm, General Director of the General Statistics Office (GSO) of Việt Nam, made the statement at a meeting to assess the mid-term results of the project: 'Việt Nam – Improvement of National Statistical System'.
The project, worth more than 648,700 euro (US$716,000) financed by the Italian government through the Agency for Co-operation to Development (AICS), aims to strengthen the capacity of the Việt Nam's statistic system to support economic and social development.
The three-year project, which started in April last year, focuses on the ability to produce, collect, analyse, use and disseminate statistical data on energy and the environment.
"Improving capacity in the field of energy and environmental statistics and climate change is essential for Việt Nam to take timely measures to respond and adapt to climate change in the context of Việt Nam being one of the countries most severely affected by climate change," Lâm said.
The project consists of five parts: institution building, energy, environment and climate change, information dissemination and information and communication technology.
Roberta Fontana, the project director, from the Italian National Institute of Statistics (Istat), said that after 18 months, 51 per cent of the project had been completed, keeping progress on schedule.
The project helped the GSO in its co-ordinating role in the national statistical system, increasing awareness of State administrative agencies of statistics to facilitate data exchange.
In terms of energy, it provided technical assistance to the GSO to compile the national energy balance, starting with the centralisation of available data from public administrations.
Regarding environment and climate change, it helped the GSO develop a system of environmental and urban statistical indicators.
It also provided technical assistance to develop a new website for the GSO and design a new input data centre to enhance information and communication technology security.
Speaking at the meeting, ambassador of Italy, Antonio Alessandro, said a reliable, independent and effective national statistic system was of paramount importance to support economic and social development in today's world. It also contributed to a better relationship between citizens and institutions, as it improved transparency.
He also said that depending on the final results and the interest of both parties, they might decide to extend the project.
The results achieved in the 18 months of the project showed the close and effective co-operation from AICS as well as the efforts of the GSO, said Lâm. — VNS