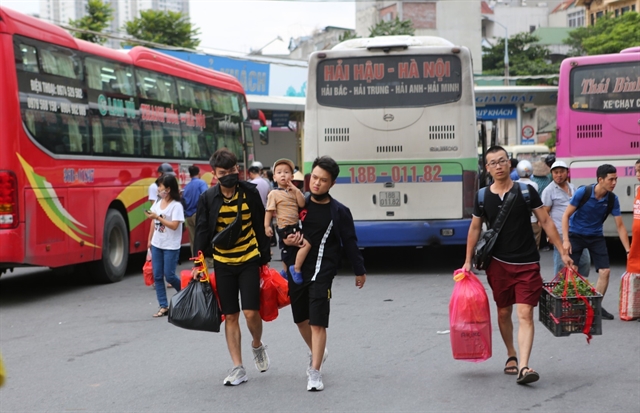 Passengers at the Giáp Bát Bus Station in Hà Nội. VNA/VNS Photo Thành Đạt
HÀ NỘI – Legal buses operating in Hà Nội are losing more and more customers who are instead opting for unregulated means of transport.
Some bus companies are using routes they shouldn't, leaving genuine companies out of pocket.
They have even set up hotlines so passengers can make their own arrangements where and when they want to be picked up.
Firms permitted to use the routes are missing out, a transport workshop held in the capital city was told on Monday.
A lack of passengers has forced some companies to use alternative routes, where they should not be picking up fares.
Some businesses even claim the drop in business is pushing them towards bankruptcy.
Speaking at the workshop, entitled: "Management of transport enterprises registered to operate on fixed routes and those run business as contract transport services; problems and solutions," Nguyễn Văn Quyền, chairman of the Việt Nam Automobile Transport Association, said stricter regulations needed to be put in place.
"It is necessary to tighten regulations on the operation of contract bus services and create healthy competition between the two kinds of services," he told online Vietnamplus newspaper.
Participants at the workshop said illegal coach and bus services were a big concern for the country despite the efforts to put the brakes on those flouting the law.
Nguyễn Văn Chi, general director of Quảng Ninh Bus Station Joint Stock Company, said while measures were being taken by the Government, Ministry of Transport and localities to solve traffic congestion and reduce accidents, more and more illegal buses were appearing on the roads.
He said this added more vehicles to already congested routes, particularly during peak times.
Khúc Hữu Thanh Hải, chairman cum general director of Đất Cảng Trading and Transport Services Joint Stock Company, said due to shortage of passengers, some transport enterprises did not run on fixed routes but changed based on passenger demand to get as many people on board as possible.
Lê Xuân Long, chairman of the Thanh Hóa Automobile Transport Association, admitted that a lot of car owners had registered to run businesses as contract transport services. But in fact, their services were operated on fixed routes.
Solutions
To deal with the problem, he proposed competent agencies quickly issue new regulations to replace Decree No 86/NĐ-CP issued in 2014 which set out conditions for transport with a view to enhancing the management of this type of transport service.
Vehicles that violated business conditions should have their licences revoked, Long said.
According to Lưu Huy Hà, director of Hoàng Hà JSC in Thái Bình Province, when bus stations were moved out of city centres, it made it harder for people to access public transport.
"People are being forced to find other means of transport, facilitating the development of unauthorised coaches," he was quoted by Giao thông (Transport) newspaper as saying.
Hà suggested that coaches operating on fixed routes with high frequency and less than 200 kilometres in distance should be shifted to bus models to make it more convenient for passengers.
Phan Thị Thu Hiền, deputy director of the Directorate for Roads of Việt Nam (DRVN), said the directorate would renovate the management of transport services when revising the Law on Road Traffic. Specifically, business conditions for transport enterprises registered to operate on fixed routes would be reviewed to remove difficulties for them.
"The DRVN will consider the proposal to shift coaches with fix routes of less than 200 kilometres to buses and set up a model to create favourable conditions for passengers," she said. — VNS