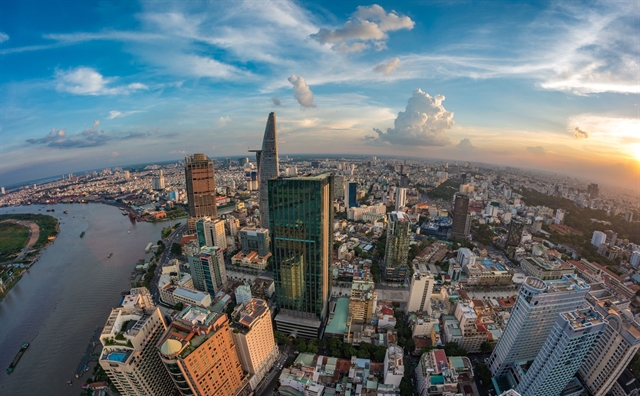 Việt Nam's real estate market continues to attract foreign investors because of its growth potential. photo tbck.vn
HÀ NỘI — Việt Nam's real estate market continues to attract foreign investors because of its growth potential, especially Korean investors, according to real estate consulting companies.
In a survey by KB Securities, more than half of South Korean-won billionaires had expressed a desire to invest in real estate in Việt Nam, said Nguyễn Hoài An, director of CBRE Việt Nam, at a press conference releasing the quarterly report on Hà Nội's real estate market in the third quarter (Q3) of this year held in Hà Nội on October 9.
"We have seen a trend of Korean investors buying houses in Việt Nam over the past 4-5 years. This trend has been continuing this year both in Hà Nội and HCM City," An said.
"They have been the most exciting foreign home-buyers in Việt Nam for many years and the trend shows no sign of stopping."
Customers of CBRE Việt Nam said they were interested in Việt Nam's real estate market because the domestic economy was expected to see rapid growth in the coming years, An said.
Housing prices in Việt Nam were attractive compared to their country, she said. For example, the average price of high-end housing was about $2,000 per sq.m in Việt Nam while the price of a similar product in South Korea was about $15,000-20,000 per sq.m.
The attractiveness of Việt Nam's real estate market is explained by a number of factors, such as attractive selling prices, high profit potential and high quality products, according to Nguyễn Khánh Duy, Director of HCM City Residential Sales, Savills Việt Nam's branch in HCM City.
Việt Nam also amended legal regulations to create favourable conditions for foreigners buying property products in Việt Nam, he said.
"Apartment prices in HCM City and Hà Nội are generally lower than other cities such as Kuala Lumpur and Bangkok, despite much stronger growth," Duy said. New home prices in the centre of HCM City are now between $5,500 and $6,500 per sq.m.
Relatively low real estate tax in Việt Nam also attracts buyers both at home and abroad, according to Duy.
Therefore, it is not surprising that the demand for real estate investment in Việt Nam has increased significantly since 2015, when the amended housing law opened the local market to foreign investors.
Foreign investors expect those prices to increase in the coming years, according to An.
"Việt Nam's real estate market will continue developing. However, the prices will not be so high in the short term and Việt Nam needs many years to have real estate prices approaching those in developed countries," she said.
"Growth of real estate prices will depend on economic development and Vietnamese people's ability to increase their incomes."
"HCM City has been and will remain an attractive property market for foreign investors," An said.
"In the first nine months, besides South Korean investors, we saw investors from many other countries and territories pay more attention to the property market in Hà Nội, including investors from Hong Kong, Taiwan and Singapore."
In Hà Nội, the western region had attracted foreign investors to buy and rent real estate products, especially from Mỹ Đình to West Lake, she said.
There are many advantages in developing property for foreign investors when they like the domestic real estate market and consider it an attractive market, according to An.
However, to attract foreign investors, real estate companies must pay attention to many factors, especially foreign languages. This means ensuring staff can speak foreign languages and brochures are translated ​​to introduce products easily to foreign customers.
"This is considered a challenge for domestic property companies because not all of them pay attention to this factor even though they know the importance of foreign languages."
Other issues relate to property products, including the development of property meeting customers' demands and the representatives of foreign owners managing and trading real estate when they are not in Việt Nam.
"If property companies target foreign customers, they need to pay attention to these factors," An said.
Condominiums
According to CBRE Việt Nam's quarterly report on the Hà Nội property market in Q3 released on October 9, there were nearly 6,100 units launched from 18 projects in Hà Nội, down by 33 per cent quarter on quarter (q-o-q), leading to a total of 26,800 newly launched units during the first nine months of this year, up by 37 per cent year on year (y-o-y).
Launched projects in this quarter were mostly located in the west of the city, accounting for 77 per cent of total newly launched units.
Noticeably, Hà Nội's residential market showed a clear trend of decentralisation given increasing new projects launched in the farther districts such as Thanh Trì and Hoài Đức districts.
In terms of sales performance, more than 4,800 units were sold during Q3, down by 32 per cent q-o-q. Although there was a decrease in the number of sold units in this quarter, the ratio of sold units to newly launched was on par with previous quarters showing stable market conditions.
In terms of pricing, the average primary pricing in Q3 was stable in comparison with the previous quarter, but recorded an increase of 3 per cent y-o-y, averaging $1,337 per sq.m.
Together with the expansion of the residential market, the affordable segment is moving farther and farther away. For instance, the projects' locations were typically more than 10km from Hà Nội's central business districts (CBD), according to CBRE Việt Nam. In comparison, affordable products launched in 2019 are typically within a 10-13 km radius from Hà Nội's CBD with relatively stable pricing.
In the last quarter of 2019, 7,000 units are expected to be launched, bringing the total new launch in 2019 to around 33,000 units, up by 9 per cent y-o-y. New supply will mostly come from township developments such as Vinhomes Ocean Park, Vinhomes Smart City or Park City.
Primary pricing is expected to experience an upwards trend reaching near $1,360 per sq.m on average at year end.
Providing active sales and marketing activities and improvements in product offerings, sales momentum is forecast to maintain a positive level achieving around 85-90 per cent of total new launch during the year. VNS