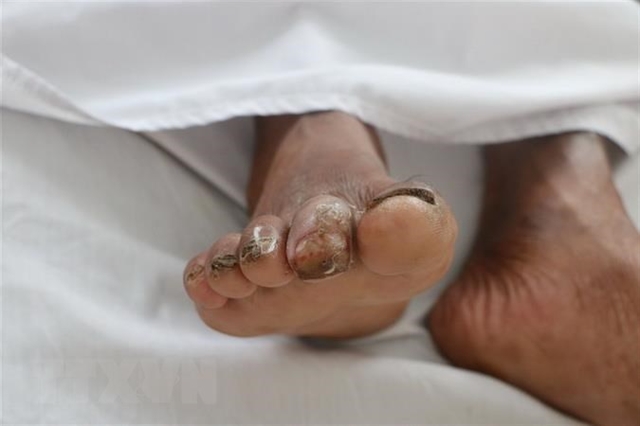 HÀ NỘI Whitmore, or melioidosis, is an infectious disease that has gone largely ignored in Việt Nam.
Little research has been conducted on the disease, despite the fact it is relatively common in agricultural countries like Việt Nam because it's caused by bacteria found in soil.
Speaking at the 9th global scientific conference on Whitmore's disease held on Wednesday, Trịnh Thành Trung, director of the Hà Nội-based Vietnam National University's Institute of Microbiology and Biotechnology, said Việt Nam used to be a hotspot for the disease during the French Resistance War and the American War.
The first case of Whitmore's disease was diagnosed in HCM City in 1925. After national liberation, a few more cases were discovered in Hà Nội and HCM City, but then the outbreak died down.
The disease has been neglected since then. In local hospitals, doctors have little knowledge about the disease and don't know how to test for it, leading to misdiagnoses.
As a result, the re-occurance of Whitmore's disease has led to speculation of what it actually is, causing public anxiety.
Trung said Whitmore, or melioidosis, was a dangerous acute infectious disease caused by a bacteria called Burkholderia pseudomallei. The bacteria lives in contaminated soil and water and is transmitted to humans through skin contact or inhalation and consumption of particles containing the bacteria.
However, there was no conclusive scientific evidence for human-to-animal or animal-to-human transmission. Thus, Whitmore infections were often sporadic and not a pandemic.
Trung has worked with 26 hospitals in 17 localities to introduce testing methods.
That's why the number of diagnosed patients has reportedly increased in the past two months.
In that time, at least 12 people have been hospitalised with Whitmore's disease at Hà Nội's Bạch Mai Hospital and the National Hospital of Tropical Diseases, and four have died.
Đỗ Duy Cường, director of Bạch Mai Hospital's Centre for Tropical Diseases, said the disease was reportedly on the rise in many countries, such as Cambodia, Thailand, Laos, Australia, India and African nations.
The disease is especially dangerous for patients with high blood pressure or diabetes as the bacteria can cause septicaemia or organ failure.
International experts said about 50 per cent of infected cases suffered immunodeficiency diseases and about 30 per cent of deaths were related to septic shock.
That's why it was so important to identify the primary infection on the patient's body so it could be treated quickly and effectively.
At the workshop, doctors shared different methods of testing for the disease. Currently, the test for Whitmore's disease takes 5-7 days.
Doctors are encouraging people, mostly farmers who have diabetes/chronic kidney or lung disease to go to a hospital equipped with microbiological laboratories if they start experiencing a high fever.
The 9th global scientific conference on Whitmore's disease was jointly organised by the Vietnam National University's Institute of Microbiology and Biotechnology and the Medical University of Graz's Institute of Hygiene, Microbiology and Environmental Medicine in Austria.
The three-day event is the largest global scientific conference on the research of Whitmore's disease, and is held every three years. The event attracted more than 100 leading scientists from 26 countries to share the most outstanding research results about Whitmore's disease and experiences on early diagnosis and treatment. VNS