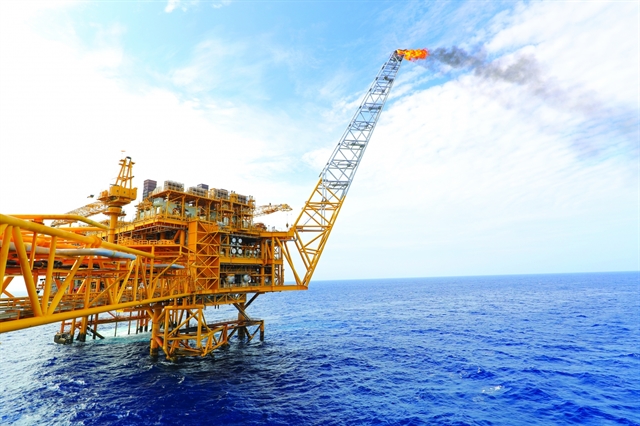 A view of Hải Thạch gas and condensate field in southern Bà Rịa-Vũng Tàu Province, part of the Biển Đông 01 project developed by PVN. — Photo courtesy of PVN
HÀ NỘI — The petroleum engineering of Việt Nam has achieved encouraging results over the years, helping gradually raise the prestige of the country on the global map of petroleum chemical manufacturers.
The Vietnam Oil and Gas Group (PVN) has built a modern petroleum engineering company capable of producing mechanical products to meet the demand for oil and gas exploration and exploitation activities which can replace similar imported mechanical products.
Thirty years ago, the Việt Nam-Russia oil and gas joint venture Vietsovpetro had to move the oil rig base from Baku of Azerbaijan to install offshore at the southern Bà Rịa-Vũng Tàu Province for oil and gas exploration and exploitation at the Bạch Hổ (white tiger) oil field.
But now, the sector has been able to not only manufacture, install and operate oil rigs for oil and gas exploration and exploitation on Việt Nam's continental shelf but also export mechanical products, contributing to increasing the country's foreign currency revenue.
Through a process of formation and development, with accumulated experience and continuous learning, the petroleum engineering industry of the PVN has gradually mastered the technology and continuously innovated to create outstanding achievements.
The development was marked with the successful manufacturing of jack-up drilling rigs Tam Đảo 03 and 05. These drilling rigs have operated safely and sustainably, bringing in high efficiency for Vietsovpetro.
The successful manufacture of the drilling rigs Tam Đảo 03 and 05 has helped position Việt Nam as one of the very few countries in the world that successfully made modern and international standard drilling rigs.
This is the first mechanical product manufactured in Việt Nam applying high technology with a localisation rate of 35 per cent.
It also affirmed the trademark of the petroleum sector's mechanical manufacturing services when its products can replace imported deep water drilling platforms.
The petroleum engineering industry has also developed to be able to meet demands for oil rig manufacture and installation of foreign petroleum companies.
In 2014, the PetroVietnam Technical Services Corporation (PTSC) announced the load-out and delivery of the Heera Redevelopment (HRD) Process Platform in southern Bà Rịa-Vũng Tàu Province's Vũng Tàu City after 17 months of manufacturing. The platform was highly appreciated by its investor, India's state-owned Oil & Natural Gas Corporation Ltd. (ONGC), partners, contractors and supervisors.
This is the first and biggest HRD Process Platform manufactured by a Vietnamese company for a foreign client via international bidding.
These achievements proved that petroleum engineering companies have gradually approached, implemented and mastered the technology of manufacturing and building petroleum projects which require high accuracy, skills, quality and safety standards.
The success construction of the Biển Đông 01 project, for example, can be considered a miracle of Việt Nam's petroleum sector, which proves the potential of the petroleum engineering industry. It is considered the most complicated project of the petroleum sector in all aspects: progress, technology and scale.
The project was developed by the group to exploit two gas and condensate fields – Hải Thạch and Mộc Tinh with duration expected to be 25 years and a capacity of 8.5 million cubic metres of natural gas per day.
All the process, from designing, equipment and material purchasing and manufacturing, was implemented within 30 months. This is a record that not so many contractors in the world could do, according to the PVN. The project proved skills and knowledge of Vietnamese experts, engineers and workers in the petroleum industry.
In the new context, the PVN will strive to continue successfully manufacturing more modern petroleum mechanical projects with support from the State and Government and concerted efforts of its staff in spite of challenges ahead.
At a recent conference on measures to boost the development of the mechanical industry of Việt Nam, Prime Minister Nguyễn Xuân Phúc said that the Government would build a market for mechanical businesses to develop, including creating conditions for businesses to supply their products at domestic market and seek opportunities to expand export markets for petroleum mechanical products of Việt Nam. — VNS