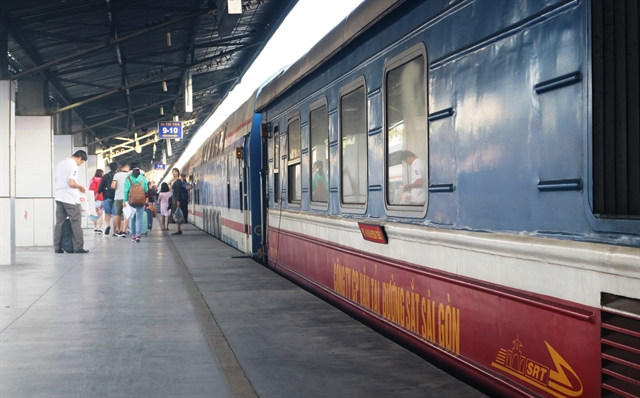 Sài Gòn Railway Transport JSC will start selling tickets for Tết (Lunar New Year) holiday on October 20. — VNS Photo Ngọc Diệp
HCM CITY — The Sài Gòn Railway Transport Joint Stock Company will begin selling train tickets for the upcoming Tết (Lunar New Year) holiday beginning on October 20, according to the company's director Đỗ Quang Văn.
The Tết holiday is officially scheduled between Thursday, January 23 and Wednesday, January 29.
Văn said the railway company would provide about 287,000 train tickets for the occasion.
The company will run 22 trains, including 10 Thống Nhất passenger trains (trains running from North to South and returning), and 12 other trains on routes from HCM City to other provinces and cities.
During the holidays, the company will increase the number of trains on two-way routes from HCM City to Huế, Đà Nẵng, Tam Kỳ, Quảng Ngãi and Nha Trang.
Passengers can buy tickets online for all routes at websites www.dsvn.vn, www.vetau.com.vn, giare.vetau.vn; and via e-wallet applications; or buy tickets directly at the railway station and from ticket agents under the management of Việt Nam Railways Corporation.
From October 19 to 24, people can receive a waiting number to buy Tết tickets by texting "GASG NAME XXXX" to 8377. In the message, "NAME" is the passenger's first name, and "XXXX" is the last four numbers of the passenger's ID card, passport or driving licence.
Beginning on October 25, people will have to go to the railway station to get waiting numbers to buy tickets.
Passengers should have their ID cards, passports or driving licences when buying tickets. One person can buy a maximum of four tickets in each direction.
To avoid purchasing fake or invalid tickets, people should make bookings at railway stations, official ticket offices and official outlets.
Promotion
The Sài Gòn Railway Transport JSC has announced that passengers wil receive a 50 per cent discount off 5,000 train ticket prices between October 22 and November 30 for trains SE3/4, SE7/8, SE21/22, SNT1/2, SQN1/2, and SPT1/2.
Accordingly, passengers have to buy tickets five days before the day of departure (the period for buying discount tickets is from October 17 to November 15). The discount is available for both online and direct buying.
Tickets can be returned or exchanged 72 hours prior to the departure date. If they are exchanged, passengers will have to pay 50 per cent of the ticket value as a penalty fee. — VNS