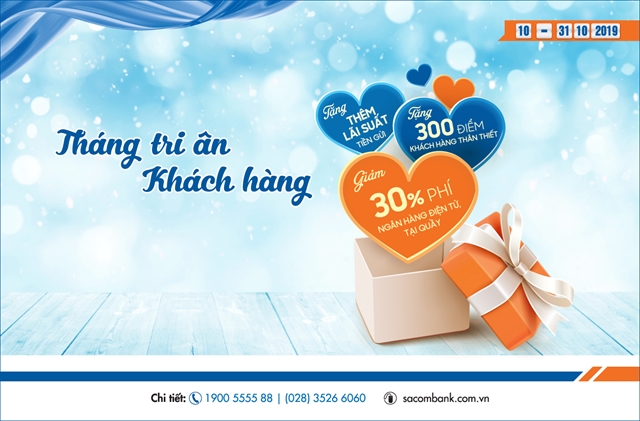 From October 10 to 31 Sacombank is offering freebies and other attractive incentives worth over VNĐ25 billion ($1.07 million) to say thanks to customers. — Photo courtesy of Sacombank
HCM CITY — To mark Vietnam Entrepreneurs' Day (October 13) and Vietnamese Women's Day (October 20), Sacombank has launched a client appreciation month from October 10 to 31 with a number of attractive incentives to individual and corporate customers.
It has earmarked over VNĐ25 billion (US$1.07 billion) for this programme.
From October 10 to 13 all individual customers will be rewarded with 300 loyalty points and they can redeem the points with many attractive gifts such as electronic gift vouchers, vouchers for shopping at supermarkets, mobile top-up, credit card annual fees, and Vietnam Airlines flyer miles and bonus miles.
To check reward points and redeem gifts, customers can log in or register on khachhangthanthiet.sacombank.com.
Also during this period Sacombank will offer VIP corporate customers many valuable gifts on the occasion of the 15th anniversary of Việt Nam Entrepreneurs' Day.
From October 14 to 20 corporate customers will get a discount of 30 per cent on service fees when transacting business at the bank's counters or online.
Women VIP customers have the chance to receive many valuable gifts such as high-end healthcare packages or SBJ brand decorative items to celebrate Vietnamese Women's Day.
From October 21 to 27 all individual customers will get a 30 per cent discount on service fees on transactions such as money transfer, deposit and bill payment done at counters or online.
From October 28 to 31 individual customers making traditional savings deposits and creating multi-purpose term savings and Trung niên Phúc Lộc Savings accounts for at least six month-terms will receive an additional 0.05 per cent interest.
Besides, on October 12 Sacombank will organise a tennis tournament at the Kỳ Hòa Tennis Court 2 in HCM City's District 10 to celebrate Việt Nam Entrepreneurs' Day and strengthen its bonds with corporate customers.
The tournament has received more than 120 entries from top business and banking executives in HCM City and the south-western and south-eastern regions besides Sacombank executives.
There will be three events: mixed doubles, under-45 men's doubles and over-45 men's doubles.
Prizes worth VNĐ350 million ($15,069) are on offer.
The finals of all three events will be livestreamed on the Sacombank fanpage on October 12 afternoon. — VNS