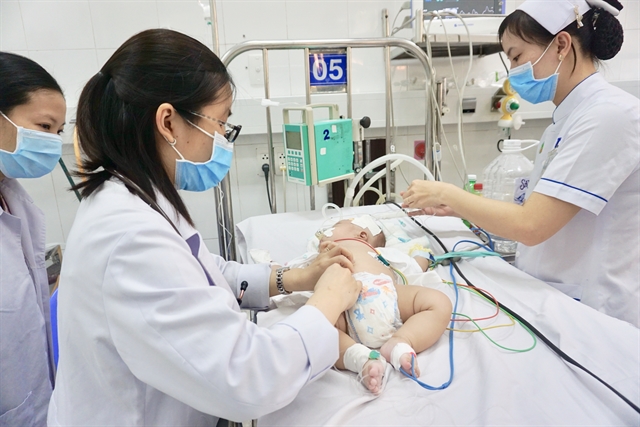 A patient with pneumonia treated at the Children's Hospital No 2. VNS Photo Thu Hằng
HCM CITY — Paediatrics hospitals in HCM City have reported a sharp increase in the incidence of respiratory diseases in recent weeks.
Children's Hospital No 2 now has 270 patients with various respiratory ailments, including 30 with serious illnesses.
An average of 7,000-8,000 children are examined at the hospital every day, 20 per cent higher than the same period last year, most of them for viral infections, diarrhoea, and respiratory ailments.
The number of inpatients has jumped to 2,100-2,200, outnumbering beds (1,900), resulting in patients sharing beds.
Nguyễn Hoàng Phong, head of the hospital's pulmonary department No 1, said every day they get 280-300 inpatients.
Pneumonia, asthma and bronchitis are the most common afflictions, he said.
The season for respiratory diseases begins in August and lasts until November, resulting in a patient overload, he said.
Air pollution is also causing an increase in the number of children with respiratory diseases, he said.
Children are vulnerable since their immune and respiratory systems are still developing, he added.
At Children's Hospital No 1, Trần Anh Tuấn, head of its pulmonary department, said there has been a spike in the number of inpatients with respiratory ailments.
The department has 140 beds but more than 300 patients now, he said.
At the city Children's Hospital, the number of people diagnosed with respiratory diseases has also increased sharply in recent weeks.
Its pulmonary department receives 2,000 patients daily, including many with serious ailments such as acute respiratory infections, pneumonia, asthma, and bronchiolitis. — VNS