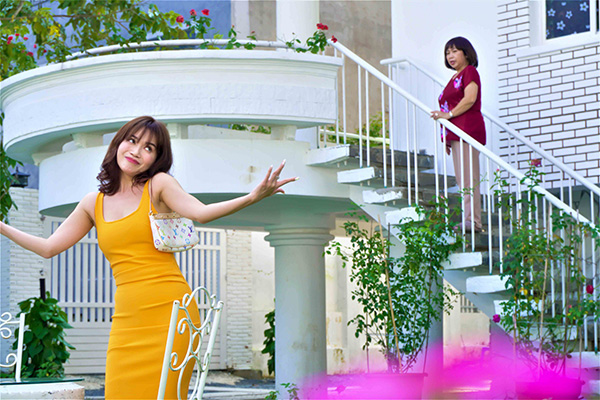 A scene in Nhà Là Nơi Để Về (Home Sweet Home), a TV show on urban women produced by M&T Pictures, is being broadcast on Việt Nam Television to celebrate the 29th anniversary of Việt Nam Women's Day, October 20. — Photo courtesy of producer
HCM CITY — "Women and love" is the theme of a new TV show on Việt Nam Television this week to celebrate the 89th anniversary of Việt Nam Women's Day, October 20.
The 52-part series, Nhà Là Nơi Để Về (Home Sweet Home), portrays the lives of urban youth and focuses on young single women who face challenges in love and career.
The film's director Thái Minh Nhiên of M&T Pictures shows how young women were able to redirect their life after setbacks.
"Key parts of the film have rewritten during shooting to attract audiences," said Nhiên. "We decided to work on a sitcom and reality show because this is a trend among young people. We hope to lure them back from Korean productions to local television."
Nhiên invited famous comic actresses Phi Phụng and Hạnh Thúy to play leading roles. "I wanted my characters' life to be realistic stories."
"I love playing roles that feature women's lives and hardships they face," said veteran actress Phụng, who has 20 years in the industry.
As a mother, actress Thúy is experienced in performing.
"I love this movie and my role. I can learn about different experiences and feel more confident and powerful to fight my own problems," said Thúy.
"Our studio's priority is to produce works about social issues, particularly feminism and gender equality, to educate young viewers," said a representative of the producer.
The Nhà Là Nơi Để Về series is broadcast at 8:40pm every night from Monday to Thursday on VTV9. — VNS