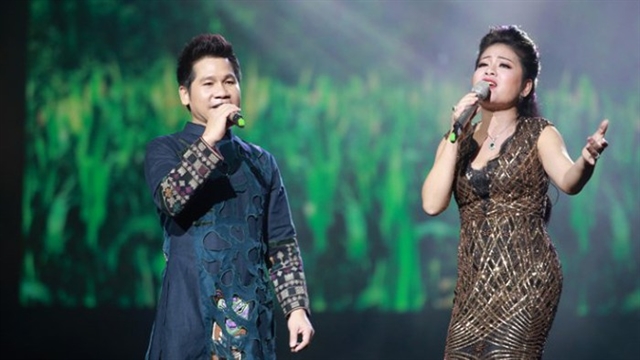 Renowned Vietnamese singers Trọng Tấn (left) and Anh Thơ will perform at a musical night celebrating Vietnamese Women's Day (October 20) on October 18. — Photo anninhthudo.vn
HÀ NỘI — An art programme featuring songs honouring motherhood and Vietnamese women will take place at Âu Cơ Art Centre on October 18.
Entitled Huyền Thoại Mẹ (Legends of Mother), the musical event aims to celebrate Vietnamese Women's Day that falls on October 20.
"This is the first time that Văn Hóa (Culture) Newspaper has organised a musical show about mothers, a theme that is sacred to everyone," said Chu Thu Hằng, the chief editor of the newspaper.
"Huyền Thoại Mẹ will pay tribute to the dearest subject that is also indispensable in each child's life – the eternal and sacred love dedicated to their mothers," she added.
The 90-minute show will present many beautiful songs about Vietnamese mothers and women who are versatile and full of love, like Nhật Ký Của Mẹ (Mother's Diary), Người Mẹ Của Tôi (My Mother), Chín Bậc Tình Yêu (Nine Steps of Love) or Khúc Hát Ru Người Mẹ Trẻ (Young Mother's Lullaby).
Such songs will be performed by renowned Vietnamese vocalists, like singers Anh Thơ, Trọng Tấn, Quốc Hưng and Lương Nguyệt Ánh, in addition to band Mây and children's group Thiên Phúc.
The general director of the programme is People's Artist Quốc Hưng, head of the Vocal Music Department of Vietnam National Academy of Music.
"This is not the first time I have conducted a musical programme dedicated to motherhood, but every time, mothers are always an inspiration of endless love," he said.
Tickets to Huyền Thoại Mẹ can be purchased at Âu Cơ Art Centre located at No 8 Huỳnh Thúc Kháng Street, Hà Nội or by contacting 0913 51 53 51. — VNS