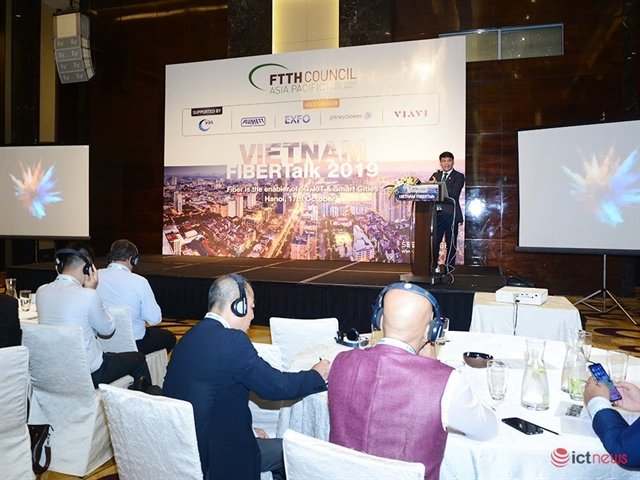 Phan Thảo Nguyên, director of the International Cooperation Department under the MIC, speaks at the Việt Nam FIBER Talk 2019 conference in Hà Nội yesterday. — VNS Photo the courtesy of FTTH Council Asia-Pacific
HÀ NỘI – The Ministry of Information and Communication (MIC) will soon announce a roadmap for full termination of the second generation network (2G) technology to release broadband support for 3G, 4G and 5G.
The statement was made by Phan Thảo Nguyên, director of the International Cooperation Department under the MIC, at the Việt Nam FIBER Talk 2019 conference, organised by FTTH Council Asia-Pacific and the Việt Nam Internet Association (VIA) on Thursday in Hà Nội.
With the theme 'Fiber is the enabler of 5G, Smart city & IOT', Việt Nam FIBER Talk 2019 was a platform for discussions between domestic and foreign experts in the telecommunication industry.
According to Nguyên, Việt Nam has 132 million mobile phone subscriptions, of which 3G and 4G subscriptions make up about half, with the other 50 per cent 2G users.
"The Ministry of Information and Communications will soon announce a roadmap to completely switch off 2G technology and shift to 3G and 4G broadband technologies," Nguyên told the conference.
Nguyên added that the MIC will also begin work on 5G as early as possible, possibly at the end of this year, to enhance the performance of Internet of Things (IoT).
"Việt Nam does not want to be slower than other countries in the operation of its 5G broadband network," said Nguyên.
The ministry has granted test 5G frequencies to some large operators to trial 5G services in some major cities.
The improvement of both landline broadband (fibre optic cable, copper cable) and wireless broadband (3G, 4G, 5G) transmission are crucial to the development of telecommunication infrastructure development and the prosperity of the country, Nguyên said.
He quoted the report of the World Telecommunication Union (ITU) as saying that when a country increased the density of landline broadband usage by 10 per cent annually, GDP can grow by 0.38 per cent.
Việt Nam has more than 14 million landline broadband subscribers out of a total of more than 96 million people. Therefore, the rate of density usage is only about 16 per cent, showing great room for improvement, Nguyên said.
Regarding the 5G testing process, Viettel is the first and only network provider that has tested 5G services, Lương Phạm Nam Hoàng, Deputy Head of Licensing and Market Department under the MIC's Authority of Telecommunications, said.
With positive results in preparing 5G, Viettel aims to complete a 5G broadcasting station version 1 in 2019, test 5G station network by 2020 and be ready in 2021.
"Two other large providers, MobiFone and VNPT, are expected to launch 5G tests in October and November this year, respectively," he said.
Hoàng said the Fourth Industrial Revolution is causing unprecedented changes, leading to the emergence of new business models and production methods.
The MIC has proposed policy incentives that would boost the digital transition. The incentives aim to encourage the completion of the 4G network and then quickly move on to 5G to prepare for IoT.
DASAN Zhone Solutions (DZS) Việt Nam's Director Nguyễn Đình Quang told Việt Nam News that 5G, IoT and Smart City technologies are all inevitable trends that radically and rapidly change the way people live and work.
"These technologies require the transformation in network infrastructure. It is a prerequisite that Vietnamese businesses need to fulfil," Quang said.
"Many Vietnamese firms are aware of the importance of the fibre optic cable, but when deciding to convert their entire infrastructure from the traditional copper cable to fibre optic cable, many of them are still hesitant because they lack infrastructure and a well-trained workforce," Quang said. — VNS