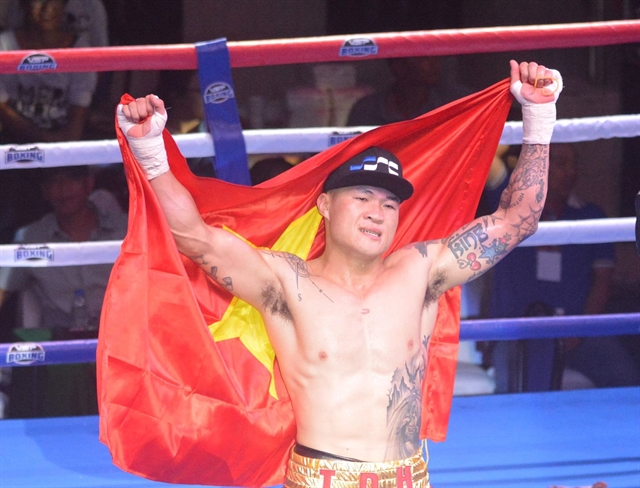 'The King' Trương Đình Hoàng will compete for the WBA Asia East super middleweight title at the Victory 8 event on Saturday in Hà Nội. — Photo thethaohcm.vn
Boxing
HÀ NỘI — Trương Đình Hoàng will take the limelight as 'The King' will vie for the World Boxing Association Asia East Super Middleweight title against South Korean Lee Gyu Hyun tomorrow in Hà Nội.
Their match is the main card of the international boxing event Victory 8 – the Legends of Hoàn Kiếm, the biggest combat event in Việt Nam ever at Đông Kinh Nghĩa Thục Square, a historic spot in the capital.
At the event, 12 matches will be held and watched by about 30,000 supporters around Hoàn Kiếm Lake and millions of people on television and live streams.
"Our match is the key of the event and two fighters also vie for the Asia East title. I feel heavy pressure," Hoàng told Việt Nam News.
"However, instead of worries and anxiousness I focus on practising hard. I believe in a victory."
Hoàng has reasons to be confident as he will compete at home and has a perfect record (2KOs) in the ring.
However, South Korean Lee is also backing himself in this weekend's 76kg-class bout that will run 10 rounds.
Lee, 25, said he watched Vietnamese boxers competing in Seoul earlier this year and all of them were strong. However, he said he was at a higher level than any other South Koreans they had met.
"Trương Đình Hoàng is not experienced enough to be in the same ring with me. He had a very easy fight in Seoul. He needs to understand this one different," Lee was quoted as saying on the event's Facebook page.
"My only request is fairness. I don't think the match will go the full rounds. I plan to gift him an early retirement. I am excited to bring dramatic and severe moments to spectators," said Lee who has recorded two wins, one draw and four losses in his career.
Responding to Lee's statement, Hoàng said: "He can say whatever he wants, result in the ring will tell the truth.
"My coaching board and I searched his info and we have studied him well as well as trained seriously for the match.
"South Korean fighters have really good physique and endurance, which concerns me the most. This match is held in 10 rounds, it will be exhausting. It is difficult to say anything now because the result also depends on what is going to happen in the ring.
"But I will try my best to keep the belt in Việt Nam," the 11-time Southeast Asian Games said.
Prior to the main card match, 11 other between Vietnamese boxers and rivals from across the world will be held.
Among them, Nguyễn Văn Hải will face Charly Suarez of the Philippines in the men's 61kg bout; Vũ Thành Trung will take on Australian Billy Cliff in the men's 72kg; Nguyễn Thị Tâm will fight Jasmeen Hudson from Australia and Võ Thị Kim Anh will fight Filipino Gretel de Paz in the women's 51kg class.
Victory 8 events have been held twice previously before tomorrow's edition. However, the previous bouts were considered friendly events and did not influence fighters' records.
The organisers, VSP Boxing, have confirmed that the Legends of Hoàn Kiếm is the first professional boxing event in Việt Nam, which is approved by the National Sports Administration. — VNS