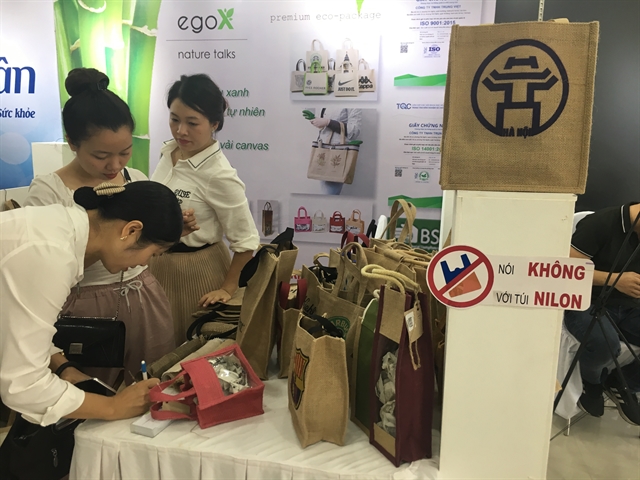 Nguyễn Linh Chi (left) buys a bag made from hessian to protect the environment.— Photo Minh Hương
HÀ NỘI — Viet Nam is one of the world's largest garment producers, but experts have called on enterprises to brush up their green credentials for the domestic market.
Director of the Department of Industry and Trade Lê Hồng Thăng told producers gathered at a networking event held by the department yesterday to commit to environmentally-friendly garment production.
Thăng said the textile and garment industry had always been one of Việt Nam's key industries, with export turnover of US$30.4 billion last year, accounting for 13 per cent of total exports. However, the sector was to blame for great amounts of environmental pollution, with huge water and energy use, as well as the discharge of toxic chemicals.
As one of Việt Nam's garment hubs, Thăng said: "It is time for Hà Nội to pioneer sustainability in the industry – reducing emissions and waste to protect the environment. This is also a way for local enterprises to increase their competitiveness in domestic and international markets."
Nguyễn Hải Đường, CEO of the M2 clothing chain, which has mostly served local consumers for the last 18 years, said: "We changed the way we serve our customers as their behaviours changed. We introduced products with less harmful materials and adopted recycled packaging. Though such things cost more, our customers are happier with their purchases."
Đường's chain is now expanding to other areas outside Ha Noi.
Nguyễn Quốc Trung, who has exported products made from bamboo to Germany for the last 15 years, now sells hessian jute bags, which can be used for shopping instead of plastic ones.
He told Việt Nam News: "With more environmental awareness, consumers are paying more for eco-friendly products. We see a big local market and we don't want to miss out."
Buying a bag at Trung's booth, Nguyễn Linh Chi told Việt Nam News: "The bag looks trendy and it also helps protect the environment. People of my age are now paying more attention to the environment."
Chi added: "Doing something serious may be hard but buying products like this is easy."
According to Trịnh Quốc Vũ, deputy head of Energy Saving under the Ministry of Natural Resources and Environment, with some 6,000 factories employing more than 3 million people, the industry is both economically and socially important for the country. However, the sector has an adverse environmental impact. Intensive water extraction, use and discharge of wastewater and high energy consumption for water heating and steam generation are all environmental concerns.
In contributing to sustainable development in Hà Nội, Thăng's department encouraged suppliers, manufacturers, distributors and local consumers to help ensure the sustainable development of the industry.
It set criteria for sustainable development from the very beginning of the production cycle, such as the use of dyes with low formaldehyde content, to using recycled materials for packaging. — VNS